Kentucky's limited-store breakfast menu "[email protected]" All 6 types of tasting reviews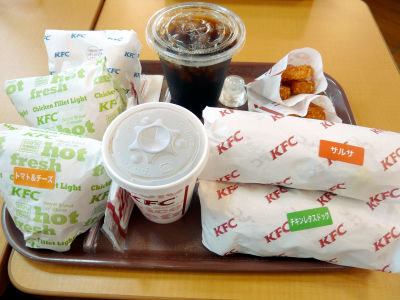 Each store in the fast food chain implements a breakfast menu aiming for morning demand of salaried workers and OLs during the hours until 10:00 am. In Kentucky Fried Chicken, we stated "Kentucky Morning" KF[email protected] "" And we offer breakfast menu from 7 am to 10 am while only some stores. From Monday, June 1, this "KFC @ am" is newly added with "Chicken fillet sandwich (tomato & cheese)" and "Hot dog" and it is said that it was 6 kinds in total, so it is combined with the previous menu I went to eat.

Review from below.
Kentucky Fried Chicken [email protected]
http://www.kfc.co.jp/kfcam/

There are 123 shops nationwide that are implementing [email protected] Because there was no shop dealing in neighborhood, I extended my leg to Higashiosaka city.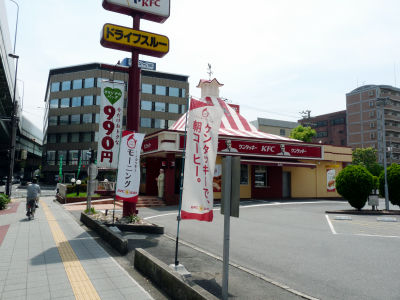 Kernel Sanders welcomes you.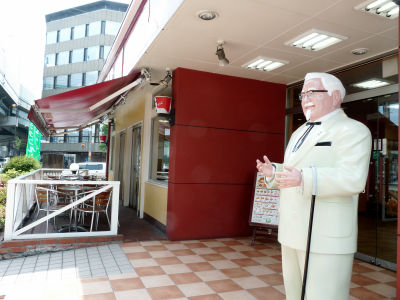 Morning menu is posted. These are the six types I will order this time.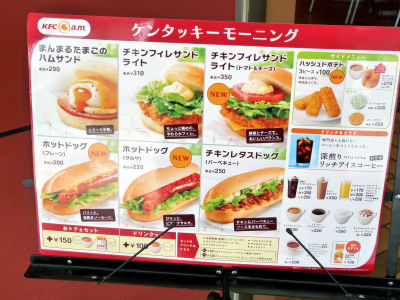 I confirmed that a proper morning menu was also issued on the drive-through side.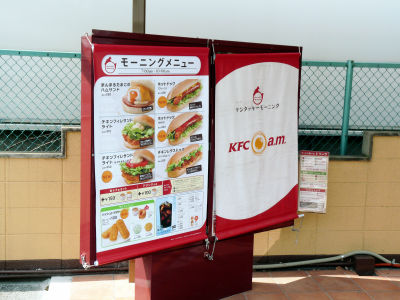 First of all, you will receive 3 types of hot dogs. From the left, hot dog (plain) 200 yen, hot dog (salsa) 200 yen, chicken lettuce dog (barbecue) 250 yen. Two hot dogs are new items.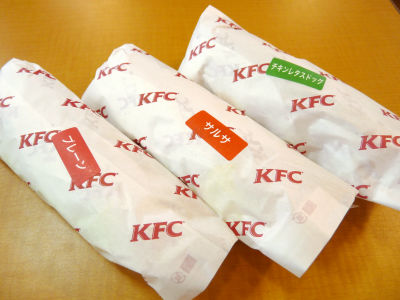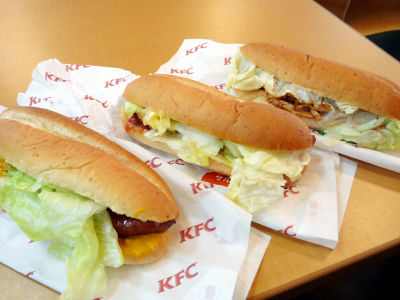 Hot dog (plain) is a simple thing with sausage and lettuce scraped with mustard. The sausage is slender, and unlike the hot dog sausage you sell at the supermarket, you can taste a very meaty flavor. The leather is parising. Since mustard is not spicy and it is a sour type, there is no problem even if you are not good at hard products.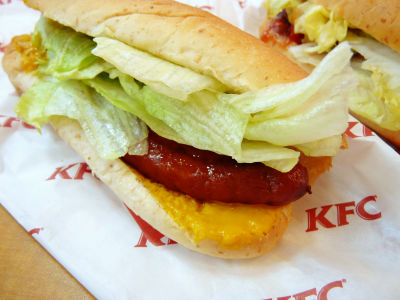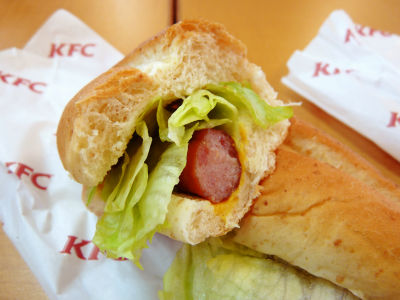 Hot dog (salsa). Salsa has a bit of pain, although plain mustard is replaced with salsa sauce, but it is probably as spicy as to slightly tangle so any person is fine. Tomato flavor matches sausage, this taste is also ant.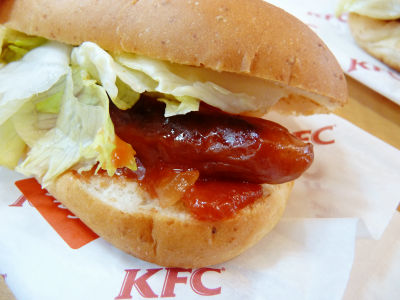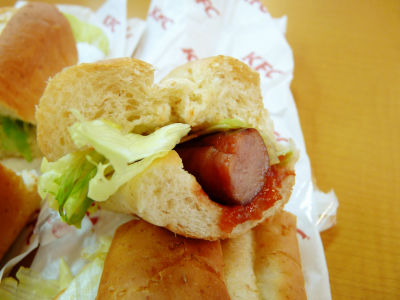 The chicken lettuce dog (barbecue) is often accompanied by loose chicken looks like tuna and barbecue sauce, and its taste is rich. For those who like plenty of such sources with the feeling that "Bang Bangie is pinched in a hot dog." The acidity of mustard is well accented.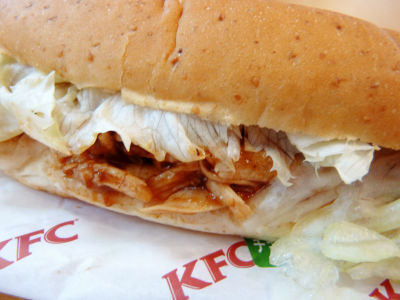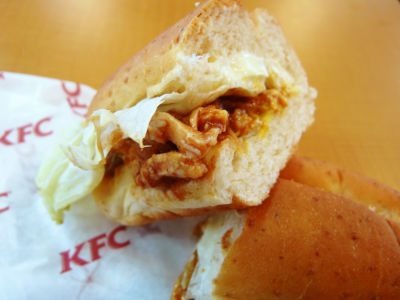 Next are 3 types of burger system. Tomato & cheese (350 yen) and normal (310 yen) in front this is chicken fillet sandwich light, and hamsand (290 yen) in the back of the egg.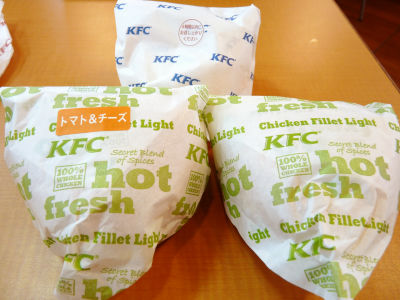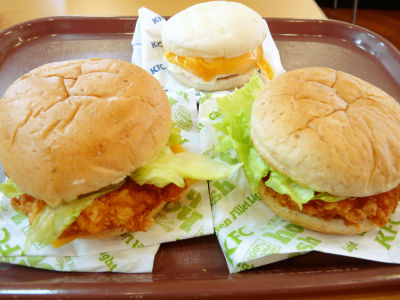 First off is chicken fillet sandwich. It is a simple chicken burger that seems to be completed when Kantucky's bones-free chicken is sandwiched between the buns, and the taste is Kintakki's chicken-like salt pepper taste. Mayonnaise sauce also matches chicken, it is a safe taste.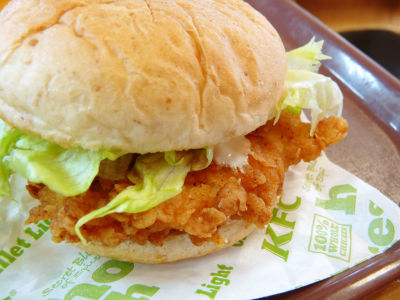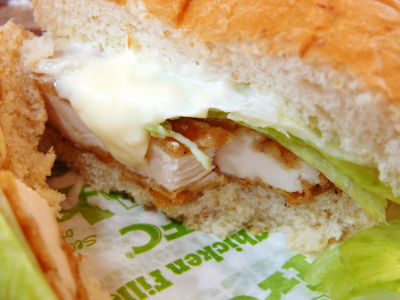 Chicken fillet sandwich tomato & cheese. Completion as a burger has increased by adding tomatoes. The fresh juicyness of tomato is accentuating well with chicken's rosette. There is also a little healthy feeling by being able to taste tomato firmly.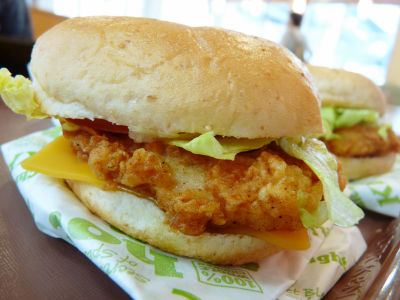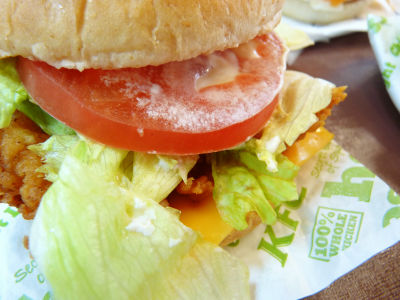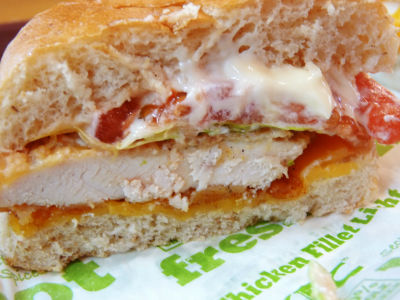 Ham sand of a uniform egg.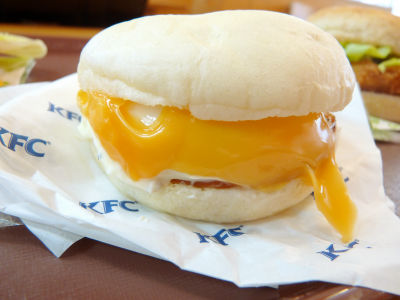 Only with this product, "Please enjoy it within 4 hours" with a seal.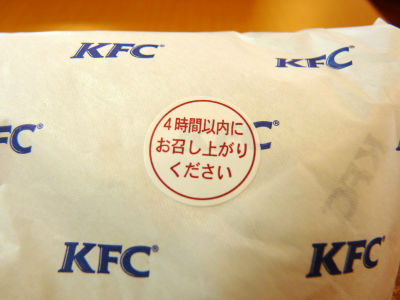 When I cut it, egg yolk flowed. It looked quite delicious, but the sense of melting of the cheese and the feeling of melting of the egg did not match, the texture which was murky all alone. I do not know whether it is white or cheese, but I am sorry that it is somewhat medicinal. Since there is no sharpness of the taste, I wanted you to emphasize whether it is a little egg or cheese.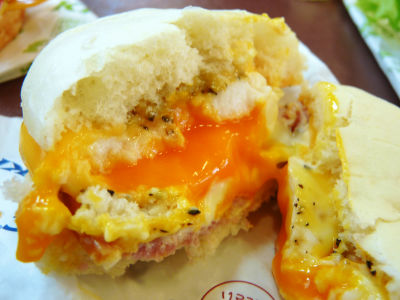 Hashed potatoes and drinks will be added to each item menu at +150 yen.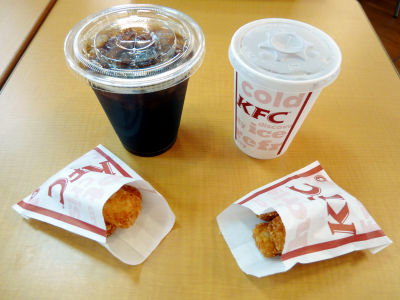 Hashed potatoes 100 yen for single item. It is the same taste as frozen food, but it is fried and satisfied because it is outer crunchy inner hook.