Director Sugawara, Managing Director of JASRAC (Japan Music Association of Japan) decides to appear on NicoNico Live Broadcast and answers any questions from users!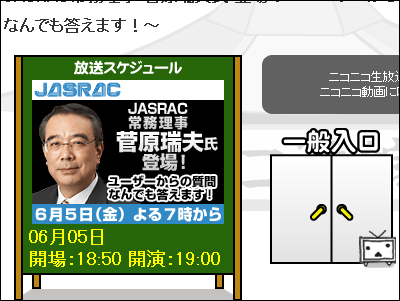 According to Nikoniko news, up to 20,000 people can connect simultaneously to live video images, and can comment on real timeNico Nico Live BroadcastingThatJASRACMr. Ryu Sugawara, executive director of the Japan Association for Music Association of Japan, appeared and said that JASRAC will tell us about "ever" and "future".

In the program, we will explain the history of JASRAC establishing this year's 70th anniversary, etc, and to the various JASRAC questions from users sent by real-time comments written in real-time during live broadcasting and e-mails recruited in advance, Sugawara He said that he will answer.

Details of the opening date etc are from the following.
[PDF file] JASRAC / Mizuo Sugawara executive director will appear on Nico Nico Live Broadcast Any questions answered by users

6/5 JASRAC Executive Managing Director Sugawara appeared on live broadcasting - Nico Nico news

JASRAC Managing Director Mizuo Sugawara appeared! ~ Any questions from users answer anything! ~

The date and time will open at 18:50 on June 5th (Friday), and it will be just scheduled to start at 19 o'clock.

As a candidate for a connector to tell Mr. Sugawara from the user, a media journalist Mr. Daisuke Tsuda and Hiroyuki Nishimura (Hiroyuki) are scheduled. At the start of the program on that day, it seems that one role will be responsible for the connector and the other will be in charge of administrative comments.

In addition, questions and questions about JASRAC are being recruited at "[email protected]".

By the way, Mr. Sugawara Mr. Rieu Sugawara, who is a Managing Director of JASRAC, talks about various things in various situations, and it may be good to prepare by reading the following pages beforehand.

When extracting a part, it looks like the following.

2007/12/17
"Copyright management, limited to sexual theory" - JASRAC's Sugawara Managing Director: ITpro

"If you can control copyright based on sexual theory, I would like to see that environment, but in reality, infringement of copyright is occurring in various places.The technology goes too far ahead of content protection Under the present circumstances, it seems difficult for the legal system of copyright protection based on sexualism - "
2007/12/26
JASRAC is the enemy or ally of "fusion of broadcasting communication" - listen to Sugawara Tsunemasa Director: Interview - CNET Japan

The feature of JASRAC lies in thorough administrative processing to achieve the objective "smooth use". Mr. Sugawara's explanation that "no matter who the opponent is" and "the success or failure of the business is OK" explains the thorough thorough comprehension.

On the other hand, criticism is often gathered in the portion that can be accepted as "overdue clerical correspondence". A case where a restaurant shop owner who used songs in a store for many years asked for a contract is a remarkable example showing a posture saying "No matter who I am."

There is also a report that one musician who worked on the songs of the song wanted to doubt "for whom JASRAC?", Such as being asked for a use fee even when quoting their lyrics in his book.
2008/03/26
President Hori Pro (2/2) - ITmedia News

Unlike trousers on the net, JASRAC's Sugawara points out that it is a thin business. "Although JASRAC's licensing business is for trout but for the core users of the net, the economic scale is overwhelmingly different, the unit price per song was extremely small in the era when ringtones were rapidly growing Although iTunes has 5 million songs, not all of them can be sold on average, how to agree with right holders based on that is a problem "
2009/03/13
"Centralization of rights" to promote the content distribution of the Internet - Professor Nakayama University of Tokyo appealed: News - CNET Japan

Mr. Mikio Sugawara, managing director of the Japan Music Association for Copyright (JASRAC), aims to "Moabetta" from the present while saying that "a sense of forced expropriation can not be denied" with respect to a series of proposals including centralization of rights In terms of the viewpoint, we will not deny itself of activating the distribution of contents, "he said. On the other hand, taking a broadcasting station-based video distribution service, which is reported to be sluggish in the number of users, an example, "If (net delivery) really is a profitable business, it should have gone together." It suggested that it would be important to build a scheme involving the country and experiment for market formation.
For details, it is only necessary to read the full text of each article and judge it, but basically it is good or bad "JASRAC seems like" to accept and answer so far, so a new flexible idea that made a big leap has come out It is anticipated that it will not come, but in some ways, appearing on something like this kind of Nico Nico live broadcast may be a precursor that is changing little by little.