Approximately 40% of female junior high and high school students, the swelling of the H1N1 influenza is regarded as an overreaction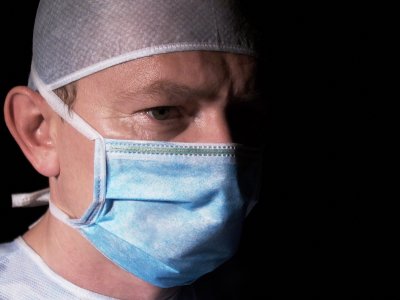 Firstly, as a result of the discovery of infected people of the H1N1 influenza A (H1N1) from high school students in Kansai, many schools have taken measures to take the day off and school trips have been canceled or postponed one after another.

However, when Visual Works dealing with media and content for mobile phones conducted a survey of attitudes toward junior high and senior high school girls, about 40% of respondents came up with thinking that the fuss about H1N1 influenza was an overreaction That's right.

Details are as below.
Marketing Research: 2009-05-20 19: 49 | Visual Works Inc. | Mobile Advertising / Media Business

The survey was conducted on "Free Website Creation Site"Forest Page", 1,500 female junior high and senior high users are targeted.

2% do not know about the new strain of influenza. There are 33% who know the contents of disease and prevention law.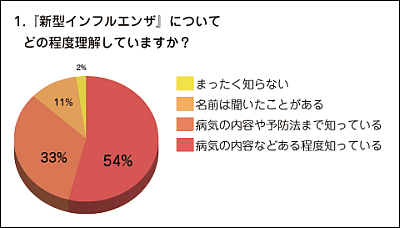 22% are not doing anything particularly for prevention. It seems that many people take some countermeasures such as "avoiding crowds", "gargle / hand washing". As a few answers, there seems to be things like "Do not touch the eyes and mouth around you while you are out," "Picking up food" or "Run away as soon as people sneeze".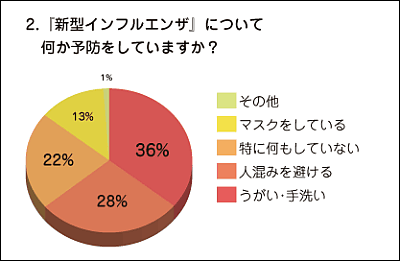 Over half of respondents said that they were interested in public news as a change that occurred around us. Some people say "I am refraining from buying a side dish of the Viking formula at supermarkets" and "I refused the use of public facilities".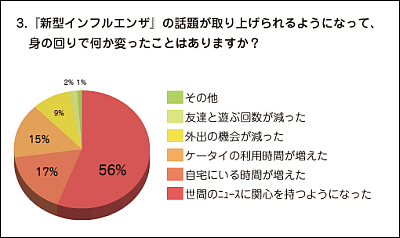 As an opinion on the H1N1 influenza, "We do not know the meaning to make that noise attractive even though it is attenuated", "The mass communication is too noisy", "Japan feels overreacting compared to other countries" and responds to television reports etc. About 40% of people feel the doubt. Some people point out that there is no sense of crisis, "Although there were dead people, people who go overseas travel do not feel like it." "There is no point in going out even if you leave school," some people point out.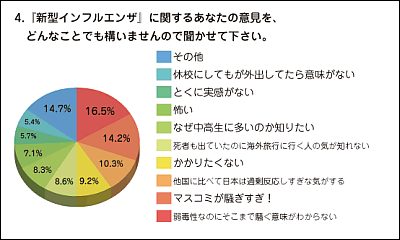 Whatever, WHO has announcedPandemic alert level of influenza type A (H1N1)Is currently 5, and the situation that the pandemic is still imminent has not changed, so be careful with infection.
in Note, Posted by darkhorse_log