We have experienced "integral stereoscopic TV" unnecessary with special eyeglasses at NHK's STRL 2009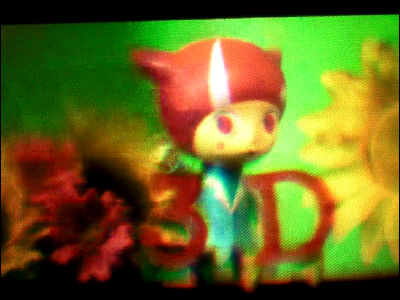 From today to the 24th (Wednesday) the NHK broadcast technology research institute is holding "STRL Open 2009At various places the new technology has been released so I have been watching it. Everything was too advanced, it was only the things "I do not know how impressive unless I experience it", but I will try to report as much as possible.

First of all, from "Integral 3D television". It boasts one of the best popularity among those being released this time, and a lot of long lines have been made. Integral stereoscopic television is a television set that consists of lens arrays consisting of minute lenses (microscopic lenses) to enable viewers to view stereoscopic images according to their position when the observer moves in horizontal and vertical directions unnecessary for special eyeglasses This is a method of reproducing a stereoscopic image by using both lenses for shooting and display.

So the details are from the following. There is also a movie filmed in a struggle to tell stories somehow.
Integral 3D television
~ Application of full resolution Super Hi-Vision image technology ~

What you see over there is "Integral Stereoscopic TV"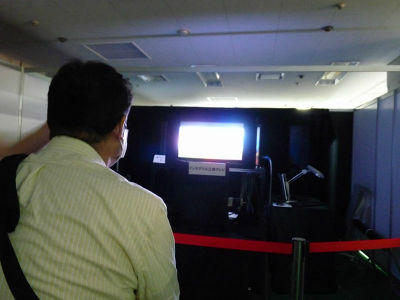 I will shoot like this. Full-resolution Super Hi-Vision cameras and displays are applied to enable real-time shooting and display of stereoscopic images. By making finer lenses of lens arrays used for shooting and display finer, resolution of stereoscopic images Which is about four times as large as 400 × 250 pixels.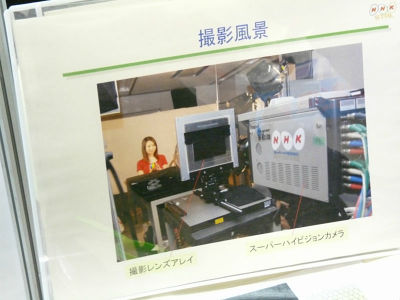 Although it is easy to understand as a principle from this figure, the way the subject appears in each lens is slightly different, and by turning it in the opposite direction, it is possible to create a space for reproducing the optical image in the space with a plurality of rays It is possible to realize an image reproduction 3D method.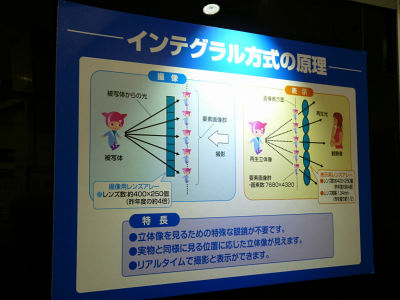 The outline is like this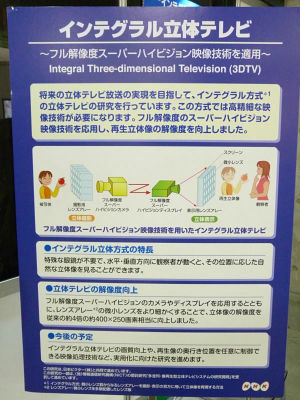 This is a lens array. If you think that everything that looks like a mesh eye or an insect's compound eye looks like a camera OK.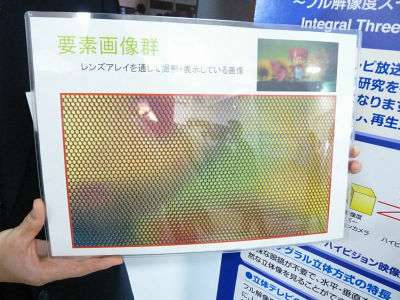 If it restores it should look like a solid.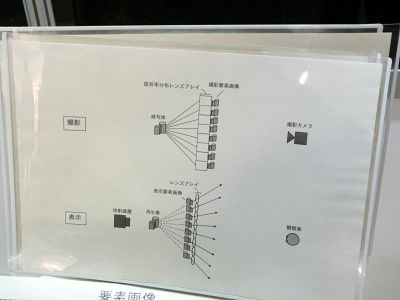 And this is the actual picture of "Integral 3D television". Click the image below to start HD playback on YouTube. Because it is a solid, you can see that the angle you can see is different depending on the viewing angle. Even with the naked eye it looks three-dimensional, and unlike the similar technology we saw so far, it became quite clear three-dimensional.



Actually, the explanation staff will explain in more detail at the venue, so if you can go to experience it would be better to go. I am recommended because it is quite nice in the three-dimensional thing seen with the naked eye up to now.