NTT DoCoMo 's "Android mobile" will be released next month, the price will be on the order of 20,000 yen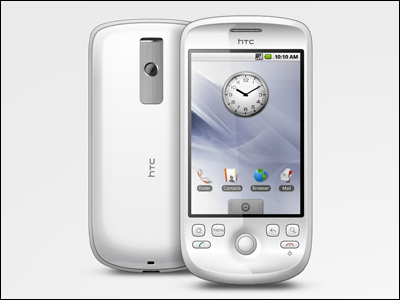 The other day at GIGAZINENTT DoCoMo intends to release the mobile phone "HTC Magic", which adopted Google's mobile phone OS "Android" for the first time in the near futureWe have informed you, but further details became clear.

In addition to using various services provided by Google,Android mobile phones that are said to be able to keep production costs lower than iPhoneHowever, it seems that you can get it on the 20,000 yen scale.

Details are as below.
DoCoMo launches "Google Mobile" next month From 20,000 yen mobile - latest news: IT-PLUS

According to the Nihon Keizai Shimbun news report, NTT Docomo says to launch smartphones that adopted Google's "Android" next month. The newly appearing terminal is said to be a model equipped with a touch panel made by HTC company in Taiwan, and it seems that it corresponds to "HTC Magic" previously reported in GIGAZINE.

The Android-equipped mobile phone is easy to use the search function provided by Google and the video sharing site "YouTube" etc. The normal selling price is around 50,000 yen, but 2 year contract etc We will make it possible to purchase at the 20,000 yen level if certain conditions are met. In addition, it is said that NTT DoCoMo's "i-mode" mail service can also be used.

Apple is supposed to be preparingNext Generation iPhoneI am worried about, can smart phones that adopted Android become a strong counter horse? I feel the merit that you can use conventional i-mode mail as it is, but I'm also concerned about whether the "condition" for purchasing on the 20,000-yen scale is to enter the packet flat rate plan as with iPhone.