Finally a miniaturized B-CAS card "Mini Card" appeared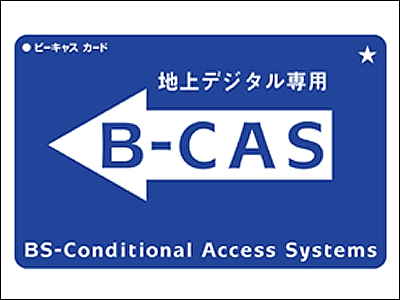 It is necessary to cancel encryption of terrestrial digital broadcasting, BS digital broadcasting, 110 degree CS digital broadcastingB-CAS cardHas been found to be compact.

Because of the large size of the card, it was a factor impeding the miniaturization of the digital tuner for personal computers, but it seems that small receiving devices will come out with this.

Details are as follows.
(PDF file)Introduction of small B-CAS card (Mini card)

According to this release,ARIB (Association of Radio Industries and Businesses)In response to the revision of the standard, B-CAS Corporation decided to introduce "mini card".

This is a card that adopts the same "shrink wrap method" as the current B-CAS card, the user opens the lap and takes out the mini card, then installs it on the receiving equipment and uses it. Although it is said that it is not different from the conventional card on the function side, it is said that it is a terrestrial wave dedicated card that is bundled with terrestrial digital dedicated receiver.

In addition, it is said that the manufacturer chooses to use either a conventional card or a mini card, and it is said that the time of appearance of mini card is around November 2009.
in Note, Posted by darkhorse_log