We are looking for a monitor that Sony can play PS3 software etc. under development, with a honorarium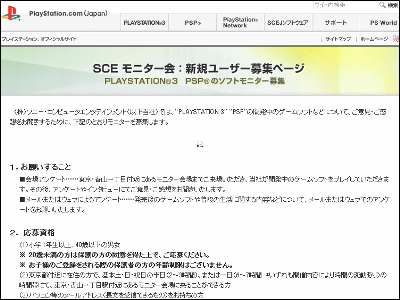 We began recruiting monitors from today to listen to opinions and impressions about game software under development by Sony. For the monitor, questionnaire and interviews are conducted after playing software for PS3 and PSP which is currently under development, and a reward is paid according to the time of participation.

People who are interested in developing games and who have time convenience may want to participate.

Details are as follows.
PlayStation.com | Soft Monitor Wanted

According to this page, Sony hears opinions and impressions about game software for PS3 and PSP under development from 10:00 on Thursday April 23 (Sunday) through May 10, 2009 (Sunday), 17:00 It seems that we are looking for a monitor for.

The entry qualification lives in the vicinity of the Tokyo metropolitan area, and the monitoring venue near Tokyo's "Aoyama 1-chome" station in the time zone of Saturdays, Sundays, public holidays (2-3 hours) or one day (6-7 hours) Elementary school first-grade students or men and women under 40 years old who can come to. For high school students and above, a mail address of a personal computer etc. is necessary.

For monitors, after playing game software under development at a monitor venue near Tokyo / Aoyama-1 Chome, after receiving questionnaires and interviews, opinions and impressions are asked, as well as after-sales game software and contents on everyday life etc. We are going to carry out questionnaires on e-mails or webs.

And for a monitor that participated in half a day, it is said that a bento will be paid as uniformly as 2,500 yen as a reward and 5000 yen uniformly for monitors who participated one day.

Although what you can play at the monitor venue is software under development, what kind of game software can you play? I am concerned about not only the not yet released items but also whether unpublished ones are included.