MMORPG "Grandia Online" of popular RPG "Grandia" of 2 million series in cumulative total, Conference held on 20th May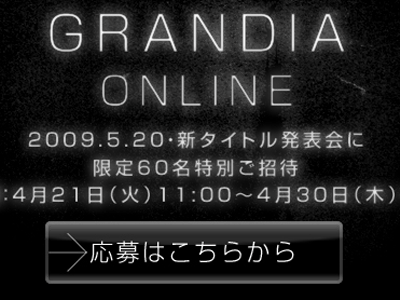 Cinematic RPG "Grandia" was released as a killer title from Sega Saturn in 1997. The technology and direction that integrated animation and 3DCG became a topic in the industry. After that, it was ported to PlayStation, "Grandia Ⅱ" in 2000, "Grandia Extreme" in 2002, "Grandia III"Has been released and has become a popular series that sold 2 million books in the series total.

It is said that the latest work "Grandia Online" of the Grandia series will finally start and 60 people will be invited to the press conference on 20th May at a special lottery.

Details are as below.
"Grandia Online" Press Conference User Special Invitation - Gung Ho Games - Online fun online!

The participation recruitment period of the press conference is from 11: 00 April 21 (Tue) until 11: 00 April 30 (Thursday). In the conference, detailed information on "Grandia Online" will be clarified, and it is said that you can experience the game as fast as possible on the test rack. Special guests will be in charge of "Grandia Online" musicTokuyuki IwadeMr.Kikuko Inoue, Also a voice actorMariya IseMr.

The target of entry is a person who has a website related to blogs and online games, and it seems that 500 yen worth of Original WebMoney card will be given to everyone who posted the report.

"Grandia Online" was scheduled to start service as "Grandia Zero" in 2007 but sold to 2.3 billion yen for investment business limited liability partnership online game revolution fund 1 (OGR fund) to strengthen the financial structure of Gangho. It was almost unknown until this release that it was unclear what the development and operation would be, but it seems that somehow the start of the service has arrived.
in Game, Posted by logc_nt