Apple also launched 1 billion download countdown of "App Store" super luxury prizes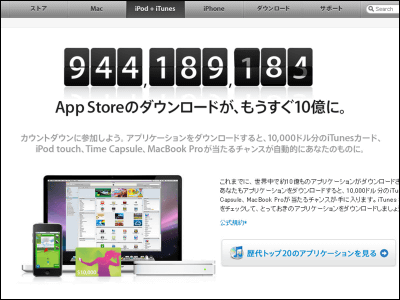 Download service of applications for iPhone and iPod touch Apple started services since July "App StoreWe commenced a countdown campaign to celebrate that 1 billion downloads are nearing.

Ultra luxury prizes will be sent to users who have downloaded to spectacularly one billionth person.

Details are as follows.
Apple - iTunes - 1 billion App Countdown

According to Apple's special page celebrating 1 billion downloads, the countdown campaign is being carried out with gratitude.

And according to the following Official Terms page, "10 million iTunes gift cards and 17 thousand dollars for users who accessed the iTunes Store and checked the App Store and downloaded the application to 1 billion people" Inch MacBook Pro, iPod touch 32GB, Time Capsule total of 13,746 dollars (about 1.38 million yen) goods will be awarded as prizes.

Entry to 1 billion countdown is done automatically by downloading free app through the App Store, and it seems that you can apply also from the online entry form currently being prepared.

Apple - iTunes - 1 billion App Countdown - Official Terms

When will a user who gets a crown of 1 billion people appear at all? It is a very worrisome place.
in Note, Posted by darkhorse_log