Acer launches "AspireRevo" ultra-compact low-cost personal computer based on "ION" that can enjoy 3D games and HD movies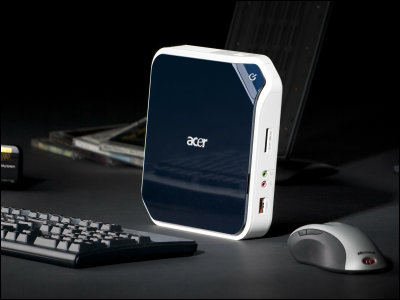 Acer familiar with low-priced mini note "Aspire One" etc. announced the low-priced ultra-compact desktop PC "AspireRevo" which adopted "ION platform" provided by graphic board manufacturer NVIDIA.

Despite being ultra compact, it realized graphic performance that is up to 10 times higher than conventional, playing HD video, playing 3D games, playing low resolution streaming video beautifully, etc. I will.

Details are as follows.
NVIDIA and Acer Disrupt the Market with Amazingly Small, Green, Full-featured PC

According to this release, Acer is going to release AspireRevo, a low-cost ultra-compact desktop personal computer that adopted NVIDIA's ION platform that combines Atom processor and GeForce 9400M G for the first time in the world.

The ION platform is said to demonstrate 5 to 10 times the performance of a conventional on-board graphic processor, and it enables playback of Blu-ray software and movie trailers delivered by HD, streaming delivery It is said that it has a function that can reproduce high quality images with moving pictures and movies taken with mobile phones.

This is the body of "AspireRevo".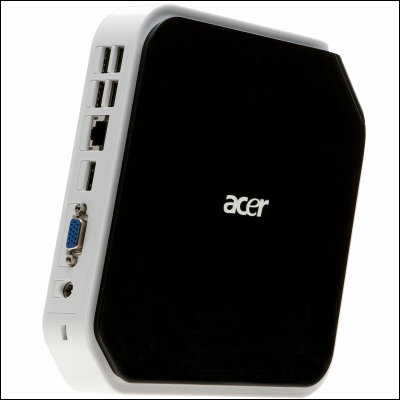 USB port and memory card slot etc. are equipped.




Compared with an ordinary desktop computer. It is very compact.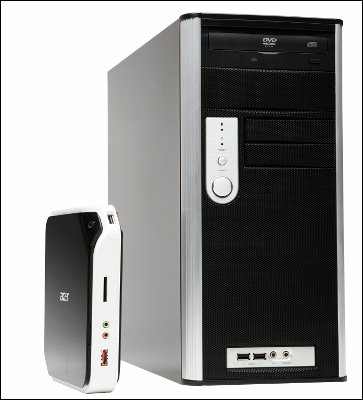 According to the following link "AspireRevo" is said to be a low-priced desktop personal computer adopting Windows Vista Home Premium, it can fully utilize the 3D function of Windows Vista with high graphic performance and supports DirectX 10 compatible game And that it can be equipped with Atom 230 or 330 processor, memory up to 4 GB, HDD with Serial ATA connection or SSD.

Acer AspireRevo: Nettop Meets Games Console
A Revolution in Your Multimedia Entertainment