Scheduled to be released in April 2009 Game list 【PS 3 edition】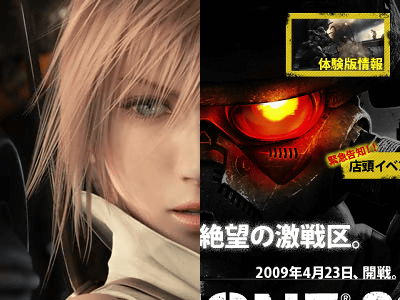 There are 6 new titles to be released next month. FPS that becomes a special unit and engages in planetary sneak attackKILLZONE 2"Ocean adventure online game"The Great Voyage Age Online ~ Cruz del Sur ~"In the latest work of the winning post series it became possible to play as a trainer / jockey in addition to the horse owner"Winning Post World"Will be on sale.

In addition, Blu-ray Disc released on April 16 "Final Fantasy VII Advent Children Complete"Final Fantasy XIII" will be bundled so if you think that you can not wait until the release scheduled for 2009, you can get a trial version.

Details are as below.
◆Winning Post World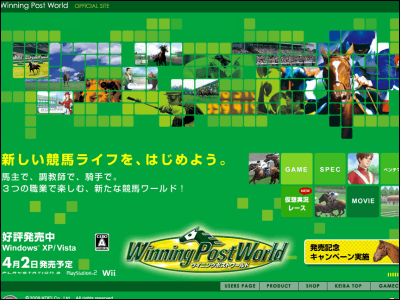 · Genre
Horse racing simulation

·Maker
Koei

·information
It is the latest work of the horse racing simulation game series "Winning Post" that raises racehorse as an owner and challenges to compete with domestic and foreign rivals, it became possible to play not only as a horse owner but also as a trainer and a jockey. As usual owner owning a race horse will challenge the race and if you are a trainer you can enjoy the pleasure of nurturing your horses as you want and in the jockey play you will win the race and aim for the leading jockey. With multi titles with Wii, PS2, the PC version is on sale on February 20 (Friday).

·price
7200 yen (excluding tax)

· Scheduled release date
April 2


---
◆
Godfather II
· Genre
Action Adventure
·Maker
Electronic Arts
·information
A sequel to the game that reproduced the world view of the movie "Godfather". In this work, the player gets a don and instructs the subordinates to expand the territory and "Dons View" is equipped, to win the conflict with the enemy forces for the family, the vertex of the mafia world is to be the genuine godfather to be a genuine godfather I aim to aim. Multi title with Xbox 360.
·price
7665 yen (tax included)
· Scheduled release date
April 16
---
◆
KILLZONE 2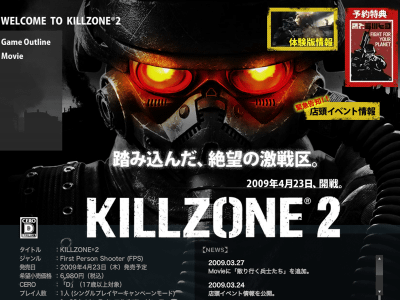 · Genre
FPS
·Maker
Guerrilla Games
·information
In past releases released in PS and PSP, players became special forces ISA of the Victor of the Republic of the Cosmos, and an episode of repelling the invasion of the dictatorship Helgast in the planet Hellgun was drawn, but in this work ISA gathered the elite It will send α troops to Hellgunn, and players will develop infiltration strategies as members of α troops.
·price
6980 yen (tax included)
· Scheduled release date
April 23
---
◆
The Great Voyage Age Online ~ Cruz del Sur ~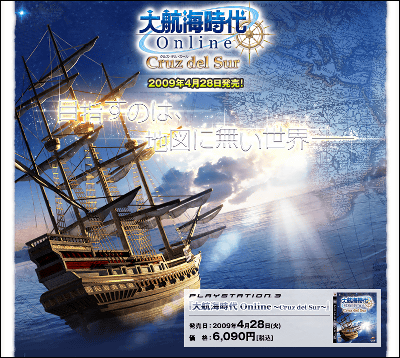 · Genre
Online Marine Adventure Role Playing Game
·Maker
Koei
·information
"Maritime voyage era Online" which started service for PC from March 2005 appeared in PS3. Players will become one of the navigators and will survive the era of crucial voyage. The software comes with a 30-day free play period, but after that you will purchase a play ticket (15 days for 30 days). In addition to PS3 main unit, PlayStationNetwork account, GAMECITY citizen ID, broadband network line are necessary for play.
·price
6090 yen (tax included)
· Scheduled release date
April 28
---
◆
NHL 2K9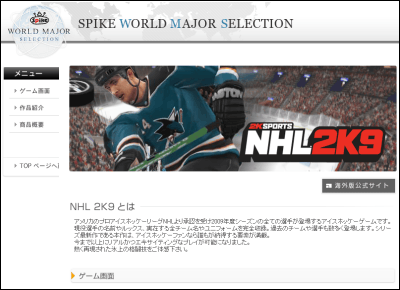 · Genre
Ice hockey simulation
·Maker
spike
·information
Ice hockey game where all players of the 2009 season appear with acceptance of American professional ice hockey league NHL. It incorporates a commentary style that adds commentaries from television broadcasting style and commentators on ice. The English version, in which only the manual is translated into Japanese, is a multi-title released on Xbox 360 and PS2.
·price
5040 yen (tax included)
· Scheduled release date
April 29
---
◆
X blade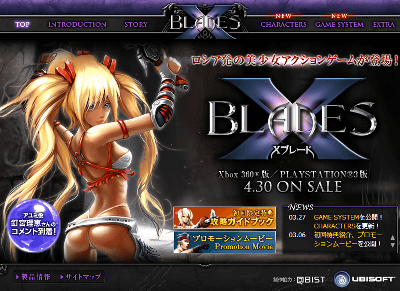 · Genre
action
·Maker
Development: Gaijin Entertainment / Sales: Ubisoft
·information
With a high-speed action based on a third person perspective, we operate a hero Ayumi equipped with weapons and gunblads that combine swords and guns and will perform more than 30 stages of missions. Ryu Kugimiya is dubbed as a role of Ayumi. Multi title titled on Xbox 360.
·price
7329 yen (tax included)
· Scheduled release date
April 30
· PS 3 software release schedule list so far
October 2008
/
November
/
December
January 2009
/
February
/
In March
in Game, Posted by logc_nt