Hagaren new series "FULLMETAL ALCHEMIST" from FuLLMETAL ALCHEMIST, launched at GyaO on Friday, April 10


Broadcasting starts on April 5 (Sunday) at MBS · TBS series nationwide net "Fullmetal alchemist FULLMETAL ALCHEMISTHowever, free video distribution serviceGyaOIt will be delivered from Friday, April 10th. As GyaO archives talks delivered for a week, I missed somewhere on Sunday as I went out for somewhere, I inadvertently missed it, I forgot to record it ... I wonder if it helps a lot.

Details are as below.
Fullmetal alchemist Official FULLMETAL ALCHEMIST website
http://www.hagaren.jp/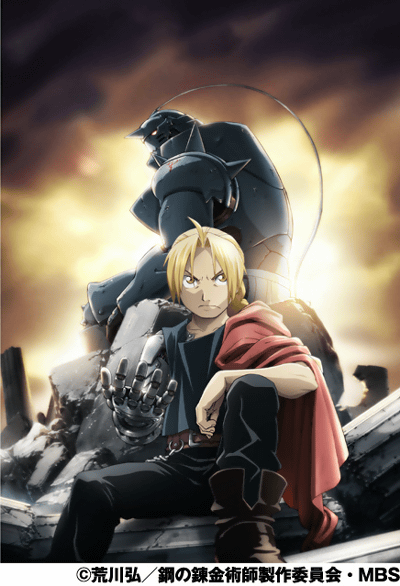 Alchemy, it is the cutting-edge science in this world, understanding, disassembling, and rebuilding substances under the principle of "equivalent exchange".
In this alchemy, what is said to be the greatest "contraindication" "human body training".

A young brother who violated contraindications because of his deceased mother and lost everything.
My brother, Alfons Elric, whose soul has been established in a huge armor.
Edward Elric, his older brother, wearing a machine armor (Automatic Mail) and carrying the name "Steel Alchemist".
In order to regain what has been lost, they go on a journey to find "stones of wise men".

As the brother approaches the truth of "the wise man 's stone", he continues to push forward into a big conspiracy. The existence of those who do not care about people.
A military state named Amestris that gradually bare its nature.
The endless hatred of rebellious people and vengeance.
Alchemy brings many tragedies.
Scattered tragedies will eventually become lines, involving people, people, and even the country.

Brothers still go forward in the gap between despair and hope ....


"FULLMETAL ALCHEMIST" has been serialized by Monthly Shonen Gangan (published by SQUARE ENIX) since 2001 and is a manga by Hiroshi Arakawa. In 2004 he received the 49th Shogakkan cartoon award, and on April 11 ) It is a very popular comic that the cumulative issuing number of books by 22 volumes to be released to break through 36 million copies. It became a TV animation in 2003, subsequently became a movie, raised a topic on public paper and raised a global sensation.

The TV series with the new dress starts in AprilAlthough it reported in the previous report, in addition to broadcasting by MBS · TBS series, GyaO was decided to be delivered from noon on April 10 (Friday). It is 1 episode update every Friday and the story delivered is archived for one week.

◆ Staff
Original: Hiromu Arakawa (published monthly "Shonen Ganggan" published by Square Enix)
Director: Yasuhiro Irie
Series composition: Hiroshi Ohnogi
Character design: Hiroko Kanno
Art Design: Kazuomo Kanpei
Art director: Takeshi Sato
Background: Kusanagi
Color design: Minako Nakao
Alchemist design: Akira Aramaki
Music: Akira Senju
Acoustic director: Masumi Mima
Animation Production: Bonds
Production: Fullmetal Alchemist Production Committee

◆ Cast
Edward Elric: Park Yumi
Alphonse Elric: Rie Kugimiya
Winry Rockbell: Megumi Takamoto
Roy Mustang: Shinichiro Miki
Lisa Hawkeye: Fumiko Orikasa
Alex Louis Armstrong: Kenji Utsumi
Mars Hughes: Keiji Fujiwara
in Anime, Posted by logc_nt