CeBIT2009: Revealing the secret of "U115 Hybrid"s 12 hours long running battery life.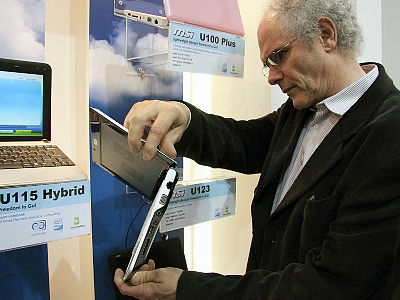 Though we are in the middle of global recession, Taiwanese manufactures are doing their business as if they don't suffer from it. MicroStar International is one of them, whose booth were always crowded by the people seeking for laptops, netbooks, and motherboards.

Among those impressive products at the MSI's booth, their new netbook "U115 Hybrid", the laptop with surprisingly long battery life, caught visitor's eyes the most.

Former products run for 2 to 3 hours on normal batteries, which is not so long. But this U115 Hybrid runs as long as 12 hours according to it's spec sheet.

How could it be done? We give it a try to reveal it's secrets.

Read on for detail.

There's three technical reason why MSI could achieve long-time operation

Reason 1; Intel ATOM Z530 CPU
Intel ATOM lineups are de-facto standard of low energy consumption CPU, used a lot in Netbook. Z530's energy consumption rate is one of the least among the lineup.

Reason 2: Latest power-saving LED for LCD backlight
This makes U115 Hybrid even more efficient.

Reason 3: Hybrid storage media of SSD and HDD
To maximize the utility, both large volume and low energy consumption are important factors. MSI combined SATA 160GB 2.5in. HDD and 8GB(16GB option available) SSD to achieve this. They made U115 run the operating system software on SSD so it don't need to drive binge-eating HDD frequently.

But one thing you should notice. To operate it for 12 hours you need 6-cell batteries. MSI prepared two kinds of batteries, 3-cells and 6-cells but have never told which battery will come with the notebook as the normal battery. You might need to pay extra for the long life battery.

However 3-cell battery would be large enough. It operates U115 for 6 hours, which is long enough to compete with former laptops and netbooks. It's not an overstatement to say that MSI is succeeding on their technology development.

The price will be 600 to 700 EUR. The release in Japanese market will be within April 2009. MSI representative said that they are planning to demonstrate U115 hybrid in Akihabara in late March.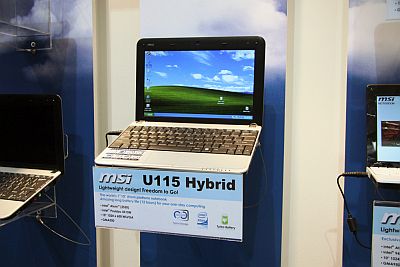 The netbook section in MSI booth. Several other netbooks like U109, U110 and u123 are displayed but u115 drew more attention than others.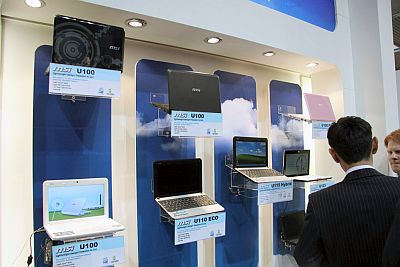 Checking and testing the U115 one after another.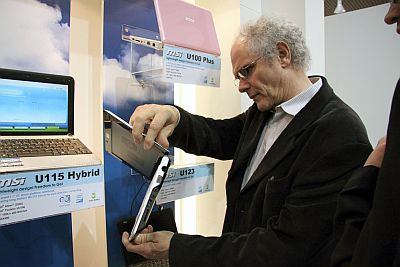 As we mentioned above, U115 Hybrid uses combined storage media to achive its energy efficiency. In addition, ECO Engine, the power control feature, controls the whole PC. The engine is efficient when multi-task operation occur, like in games and office suite applications.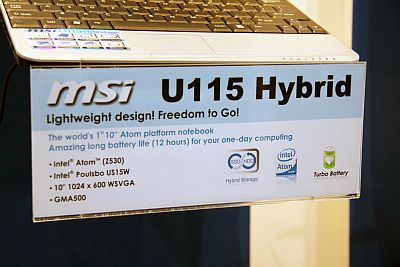 Next to U115 is the U110 ECO, same spec as U115 but with HDD only. The price is lower, about 500 to 600 EUR, due to the lack of expensive SSD.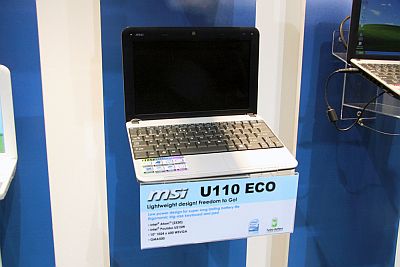 (Coverage, Text: Hiroyuki Watanabe / Edit: GIGAZINE)

Related Post:
CeBIT2009: ASUS's "Dual Panel Concept" is a real "port-able" touch panel laptop - GIGAZINE

EeePC threatens Japanese PC manufacturers' market share. - GIGAZINE

Low price Netbook featuring Gachapin and Mukku from the children's show "Ponkikki" - GIGAZINE