CeBIT2009: ASUS's "Dual Panel Concept" is a real "port-able" touch panel laptop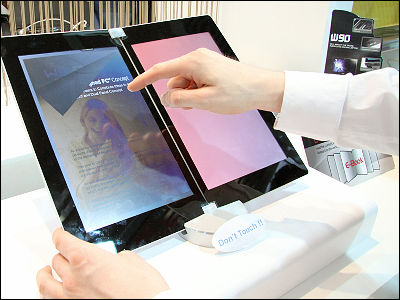 CeBit, one of the largest IT exposition was held in Germany till March 18. Among the IT manufacturer featured in the show, Taiwanese company ASUS, famous for world's first Netbook "EeePc", is drawing attention with their new dual-monitor laptop.

And here's our live photo report of their innvoative "Dual Panel Concept" laptop.

Read on for detail.

"Dual Panel Concept" is the official name which they gave for this NintendoDS-like touch panel laptop. Displaying keyboard on the lower monitor while operation on the display above.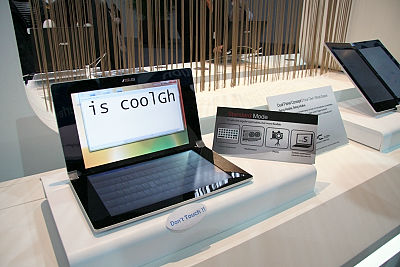 It should have roused your interest, haven't it? Actually, this is a road warriors' dreams come true. ASUS surveyed users' demand at the website "WePC.com", which is co-established by Intel. This eye-taking laptop is the product of this "bottom-up" approach.

For it's just the "concept", there has been no concrete release date and specs available. There's even no hint of whether they really are going to put this product in the store.

But asking their technical staff "Does ASUS have a plan of commercializing this thing if you find there's demands in Japanese market?", they answered "Yes", which was surprising. He said the release will be "within two or three years, in fastest" and the pre-installed OS will be Windows 7. For the CPU, he said nothing about it. But when I mentioned the collaboration between ASUS and Intel on WePC.com, he made a grin of embarrassment, so there will be some involvement of Intel on the hardware.

This is the buzzworthy ASUS's laptop. Monitor size is about 13 in. The design looks like two iPod Touch lined up.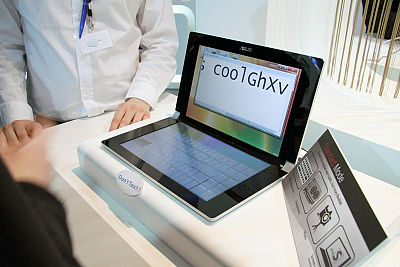 Upper monitor showing OS interface, and lower monitor showing keyboard. They provide a 45-degree field of view, which seems bit too narrow.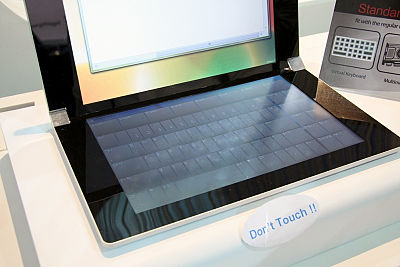 The thickness is less than a centimeter(about 0.4 in.). There's no USB connectors or memory card slots. ASUS seems to have not considered it's expandability yet. Also, no cooling fan intakes or exhaust outlets are not available, which makes this prototype not stable.


Quite simple but attractive design, utilizing characteristic of its material very well. If I would say, it resembles Mac Book Air. Chic ASUS logo on back.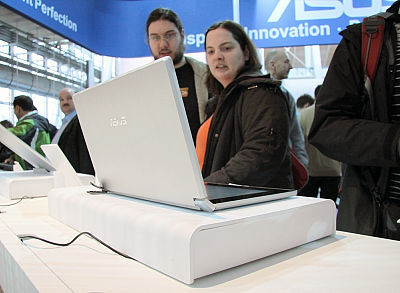 The "E-Book Mode" to run e-book application.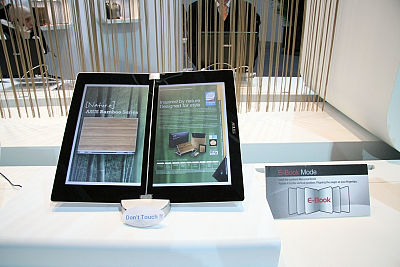 The CPU is quick enough so you can actually glance through the pages of e-books.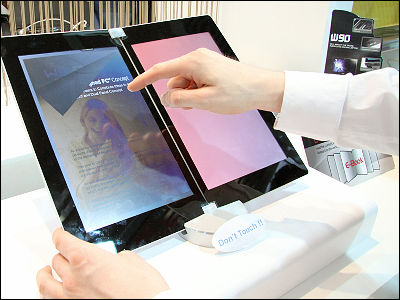 (Coverage, Text: Hiroyuki Watanabe / Edit: GIGAZINE)

Related Post:
EeePC threatens Japanese PC manufacturers' market share. - GIGAZINE

Low price Netbook featuring Gachapin and Mukku from the children's show "Ponkikki" - GIGAZINE

Compact Fuel Cell Battery for Laptops Developed - GIGAZINE