Finally Yahoo! Auction prohibits magicone's listing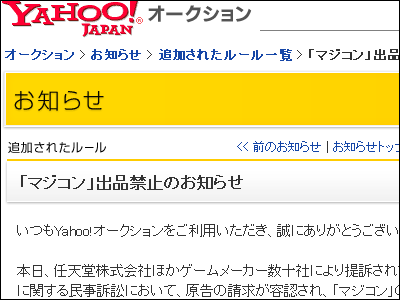 You can play copy software downloaded with Nintendo DS and play music and videos etc.A device called "Majikon" was ordered by the Tokyo District Court to suspend sales and inventory disposal, etc. based on the Unfair Competition Prevention LawReceiving, Yahoo! Listing at auction was banned.

AlreadyRakuten prohibits exhibition at auctionHowever, this is the domestic biggest Yahoo! The auction will also be forbidden to exhibit.

※ It was added at 16:00 on March 3rd

Details are as follows.
Notice of prohibition on 'Majikon' - Notice - Yahoo! Auction

Yahoo! According to the page of the auction, the Tokyo District Court approved an injunction concerning the injunction such as the sale of "Majikon" which was done by dozens of Nintendo and game makers, and prohibits the sale of magicone from February 27 I heard that he decided.

In addition, it is said that the items decided to be magicone including those exhibited before February 27 are deleted as they are discovered, and we will not refund the system usage fee etc. required for exhibition.

By the way Yahoo! On auctions on January 21, we post notes such as the following for the sale of Majikon.


At present, for sellers and winning bidders dealing with "Majikon", legal liability may be pursued in the future. Please note carefully about handling, we will note.
About the handling of "Majikon" (January 21, 2009)

Currently the second in the industryBiddersAlthough the handling of the magicon is continued with such as etc, will it follow in the future?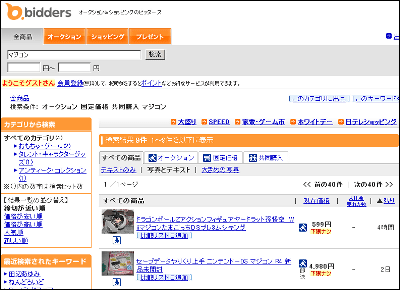 As a distribution route in the electric town of each placeThings like guerrilla saleAlthough it is also left, it becomes matter of whether or not the magicone will eventually be destroyed.

· March 3, 16:00 additional recording
DeNA operating Bidders It is said that deletion of products that seems to be "Majikon" has already begun since mid February.

In addition, although the item "save data superior Nintendo DS career R 4 new article unopened" included in the above image contains the keyword "magicone", since the item itself is not a magicone but a microSD memory card , It is said that deletion has not been done.