Sony found out that it is developing a new type game machine, recruiting evaluation staff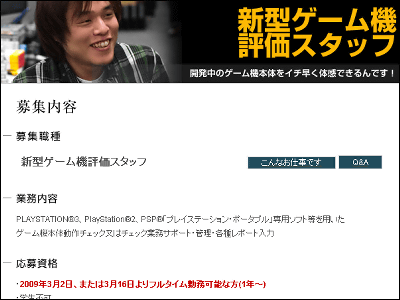 It became clear that Sony is developing a new game machine.

Evaluation staff is already being recruited, but I am very much wondering whether it is a minor change to an existing gaming machine or a completely "new type".

Details are as follows.
New game machine evaluation staff recruitment content - part time job adoption | Sony · computer entertainment recruitment information

According to this page, Sony seems to be looking for a part-time job of evaluation staff of a new game machine.

Work content is that we are welcoming inexperienced people and people who like games by checking the operation of the main unit of the game machine using PLAYSTATION 3, PlayStation 2, PSP dedicated software etc., checking support support · management · various report input etc.

Although details of "new game machine" are unknown, it is not a new type game machine which changed the minor version of the model currently on sale, but a completely new type game machine with substantial specification change can realize compatibility with the conventional product Is there a possibility that we are recruiting staff to check if there is any?