With this all-you-can-talk call, a mobile phone that finally corresponded to Skype appeared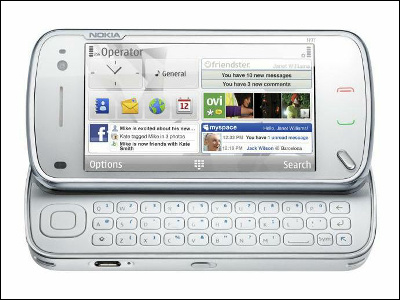 Free calling software used by over 400 million users worldwideBeta version of Java application for "Skype" mobile phone has appearedWe talked with GIGAZINE before, but it became clear that mobile phone formally responding to Skype finally appears.

The packet communication service of mobile phone or free call using wireless LAN will be possible.

Details are as follows.
Nokia - Skype and Nokia partner to integrate Skype into Nokia devices - Press Releases - Press - About Nokia

According to this release, NOKIA will make Skype officially correspond to mobile phone "N97" in the third quarter of 2009.

This allows you to enjoy free calls with over 400 million Skype users all over the world using third generation mobile phone network or wireless LAN network and also calls with cheap Skype Out service for mobile phones and fixed phones It will be possible to do.

In addition to being able to send and receive instant messages, Skype's user list can be used as a phone book.

Withdrawing from the Japanese marketIt has been integrated into ultra-luxury terminal routesAlthough NOKIA, are there any plans for other handset manufacturers to release similar terminals? Whether the mobile phone company acknowledges that call charge income will decline is also an issue.