Revealed market shares by 2008 manufacturers of thin televisions, portable music players, digital cameras, game consoles etc.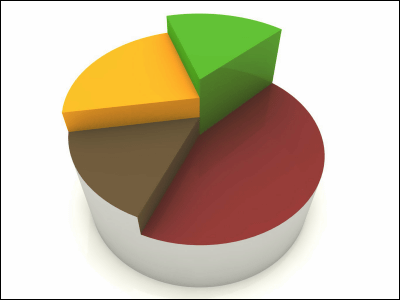 Portable music players including "flat-screen TV" such as LCD TV and plasma TV and Apple's "iPod" etc,It is beginning to spread at remarkable speedManufacturers are fierce battles over the market share of various products such as Blu-ray recorders and digital cameras, but the share of each company in 2008 has been clarified.

The surprising manufacturer ranked in the top, has become a very interesting content.

Details are as follows.
GfK Japan Certified AV Home Appliances | GFK Marketing Service Japan KK

According to the announcement of GEFK Marketing Service Japan which is investigating sales trends at retail stores of home electronics mass merchandisers, the market share by manufacturer for each product in 2008 is as follows.

LCD TV and plasma TV. Sharp is overwhelmingly 41.6%, and it is the first place for the fourth consecutive year. Panasonic in second place is 18.6%, Sony in third place is 14.8%.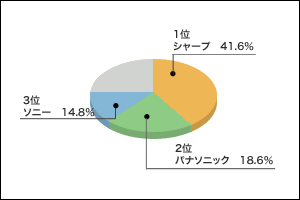 This is the Blu-ray recorder. Panasonic ranked first with 38.7% and Sony with second place accounted for 35.3%, with the first and second rankings being the closest to the previous year. In addition, 3 companies, which account for 24.7%, 3 companies, constitute the majority of the market.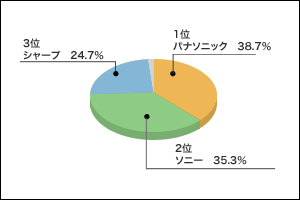 Then a portable music player. Considering that Sony's "Walkman" which accounted for 31.3% in the second place and Toshiba in the third place is only 3.1% on Apple's "iPod" which occupied 55.2%, it is just overwhelming ....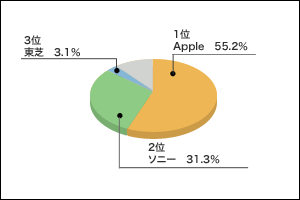 Digital still camera. The first place is 20.9% in Canon, the second place is 17.1% in Casio Computer, and the third place in Panasonic is 15.8%. By the way, Casio says that although the lineup itself of the model to be released is small, the number of units sold per model is more than twice the number of the first-placed Canon. Casio develops a thin digital camera "EXILIM", but is that the demand for a thin model is high correspondingly?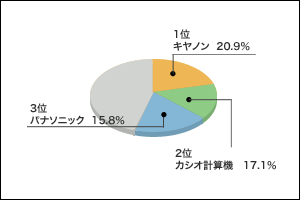 Digital photo frame that grew rapidly in 2008. Sony which became a leading player accounted for 35.9% and gained first place. Tectite which became second in 14.4% is a new entry manufacturer.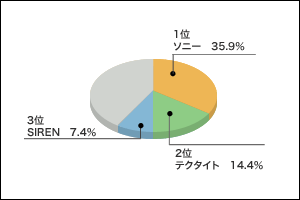 Lastly, the game industry was very active, such as "Nintendo DSi" and "PSP - 3000", a new PS3 with 80GB HDD installed, and Xbox 360 with 60GB HDD installed, but with the share of unit sales Are as follows.

First place:Nintendo 58.7%
Second place:Sony 38.9%
3rd place:Microsoft 2.4%

One month will pass soon in 2009, but what kinds of trump cards will each manufacturer make in the future to raise the share? It is where the trend is concerned.
in Note, Posted by darkhorse_log