Easy parallel parking with one button, vehicles equipped with "Active Park Assist"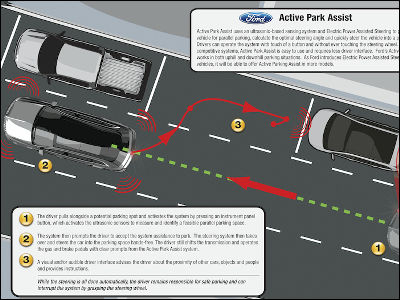 Parallel parking, one of the scenes that is most strained for drivers. People who never tried it since leaving the school or even find a space that is likely to park, are not many people going through when they are sandwiched between luxury cars?

It is good news for drivers who are not keen on that. It seems that Ford Motor has developed a system that can park parallel parking without handle operation with sensors and automatic control.

Details are as below.Ford Active Park Assist: "Better-Than-Lexus" Push-Button Parallel Parking To Debut In Lincoln MKT, MKS

Ford MotorHas developed the parallel parking assist system "Active Park Assist" by ultrasonic sensor and "Electric Power Assisted Steering" (electric steering control). The new system is a camera / base other parking assist system (Lexus LSAdvanced Parking Guidance SystemCompared with Lexus, unlike Lexus, it is also compatible with parking spaces that are downhill. Released in 2010LincolnMKS, MKT, and it seems that we plan to correspond to all models of Ford by 2012.



The Active Park Assist uses ultrasonic based sensing system and Electric Power Assisted Steering for parallel parking, calculates the angle of the steering, and promptly guides the vehicle to the parking spot. Driver has one button, you can park in parallel without touching the handle at all. Easy to operate compared to competing systems, it also supports parking on uphill slopes and downhill slopes. With the introduction of Electric Power Assisted Steering introduction vehicles, Active Park Assist will be able to be offered with more models.
1.When a driver who approaches the column that wants to park parallel parking press the button on the operation panel, the system starts and looks for a space that can be parked by the ultrasonic sensor.
2.When finding the parking space, inform the driver, When the driver agrees, the system is in charge of steering and parking parallel in unnecessary steering wheel by the driver. The driver will be in charge of accelerator, brake and gear shift according to the precise instructions of active park assist.
3.Notify the distance to the nearby vehicles, obstacles, pedestrians by voice or visual display, and instruct the driver.
Even if the steering is automatic, the driver is responsible for safe driving, you can stop the system at any time by gripping the steering wheel.
It seems like SF movies, but in the future not only parallel parking but also cars equipped with "automatic driving mode" such as ship and airplane automatic piloting may be appearing.
in Note, Posted by darkhorse_log