Upon receiving an explosive hit of low price mini-note, manufacturer finally got back to popularization at last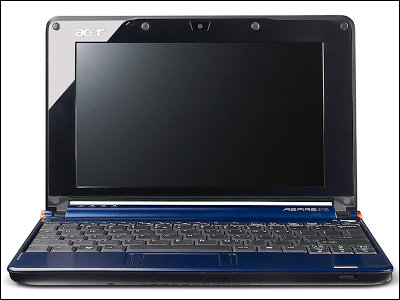 Starting with the ASUS "EeePC" series, Acer, DELL, Lenovo, Toshiba, NEC and others have entered one after another, a low price mini laptop called "Netbook (netbook)", but explosive during the 2008 holiday shopping season It seems he recorded a hit.

In response to this hit, manufacturers are likely to be keen on spreading.

Details are as follows.
Acer and Asustek looking at booming netbook sales in 2009

According to this article, Acer which sells "Aspire One" and ASUS who handles "EeePC" series seems to intend to mass-market low-priced laptop computers in full scale.

This is because Acer's "Aspire One" sold 500,000 units at the end of the year in the US in 2008, ASUS's "EeePC" series also recorded high sales both on models with 8.9 inch LCD and models with 10.2 inch LCD And that.

Acer's 8.9-inch LCD mounted "Aspire One" has been well received, so we anticipate high sales in the future and we can sell 1200 to 13 million low-priced laptop computers worldwide in 2009 It is estimated that ASUS will also be able to sell 710-7.3 million "EeePC" series in 2009.

Next-generation model has also been seenAlthough it is a low price laptop computer, what kind of new model will appear this year? We are looking forward to improving the processing speed by installing a new CPU and increasing the capacity of the SSD.