2channel is transferred from Hiroyuki to a mysterious company "PACKET MONSTER INC.", The transfer is completed, exploring its identity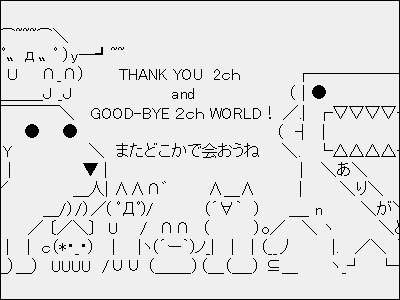 According to Hiroyuki who is a manager of 2channels made it clear on his own blog, it seems that 2channel was transferred. What was transferred was "PACKET MONSTER INC."The mysterious company called. Along with this, 2 Cycle's Terms of Service have been partially revised, and various problems will arise in the future 2-chan related trials, "Who will appeal as responsible?"

So, I tried various investigations on this mysterious company "PACKET MONSTER INC."

2 ch assignment: Hiroyuki @ open SNS

The above blog is managed by Hiroyuki himself, according to this, it writes as follows.


2 ch assignment
So, last year I had overseas business trips and had arrangements for transferring 2 ch, but finally the transfer was completed. . When.
In the "2 Channel Guide: Basic" linked from the blog "Who is doing 2 chan?"It is written like this in the item.


2 ch.net is managed and operated by PACKET MONSTER INC.
Various speculations about this mysterious company "PACKET MONSTER INC." Are flowing, and the state has only to wait for any announcement from Hiroyuki himself.

If you examine the domain information of 2ch.net, it is updated on January 1, 2009, and you can confirm that the owner is certainly changed. Apparently "PACKET MONSTER INC." Seems to be a company located in Singapore. Domain administrator is "DHANVANTRAY, RAGINI", and this person is probably holding some key.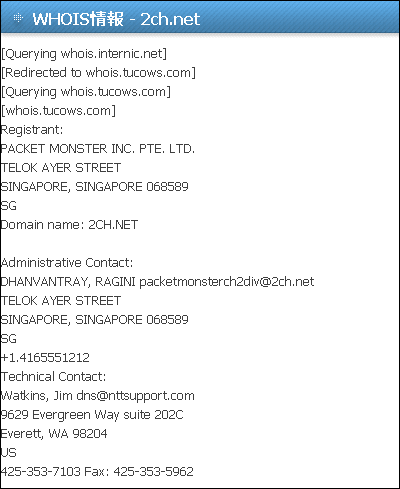 When I look it up on Google Maps, it seems like this is apparent

View Larger Map

If you look up the person named "DHANVANTRAY, RAGINI", if you stand on the premise that you are not a different person of the same name, apparently, "Rikvin"CEO of the company called"Ms. Ragini DhanvantrayBecause it is notation, it seems to be female. What is this company doing? In short, a company that provides a service for establishing a corporate corporation in Singapore and registering it for a fee.

This is the Rikvin headquarters building. It is a different address from "PACKET MONSTER INC."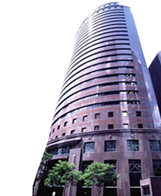 For investors and entrepreneurs, Singapore seems to have many attractive conditions in terms of taxation and so on. For those who want to develop such a business, "Private Limited Company" like Japanese limited company "Private Limited Company" Company) It seems that they are doing support for establishment. He also said he is doing business as a so-called offshore corporation establishment, procedures for issuing work permit for Singapore immigration, GST registration, accounting work, tax planning and consulting, and business planning.

These procedures can be done online (online corporate foundation service), filling in various details and actually can not be completed partly online, but probably 2 Hichan's founder Hiroyuki said these services It is believed that we made a transfer of 2channels making full use of it. In other words, we purchased land and buildings in Singapore (or use those owned by Rikvin as well) and established "PACKET MONSTER INC." To say that as a corporate registry address, "PACKET MONSTER INC.", Transferred to there It is possible to guess that it is decided to remove responsibility and authority from Hiroyuki by form in the form that it was done.

From these matters, perhaps it is not just a trial but also a broader strategy such as tax measures and further business development depending on future developments.

2009/01/03 07:01 Addition:
Regarding the person named "DHANVANTRAY, RAGINI", those who checked in and registered the registry etc announced the results on their own blog and made entries.

I investigated "2 ch transfer to overseas company" in detail. - iemoto BLOG

So, after taking the register of RIKVIN CONSULTANCY PTE LTD, "correct answer" (!). That is, "President of RIKVIN, a company founded on behalf of the company + the president of a substitute company for directors and" DHANVANTRAY, RAGINI ", the president of the company, PACKET MONSTER INC. PTE. LTD., This 2 ch transfer destination are the same person understood.
2012/03/27 added:
Due to the field survey of the Yomiuri Shimbun, "DHANVANTRAY, RAGINI" turned out that the packet monster company was not familiar with the business content at all. Also, a man named Director of Packet Monster Company did not know about "2 chan."

2channel management company is a paper company or director does not know 2channel - GIGAZINE