Scheduled to be released in January 2009 Game List 【Xbox 360 編】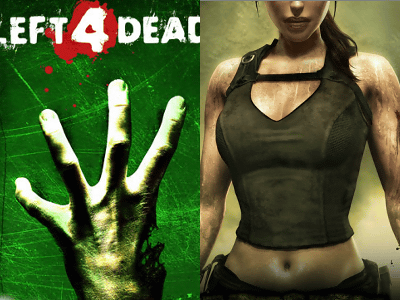 There are 5 titles to be released this month (excluding Platinum Collection). A zombie action game that can taste a fierce zombie rush "Left 4 Dead"And popular action adventure series which made Lara Croft the hero"Tomb Raider Under World"Will be on sale.

Details are as below.

---
◆
RACE DRIVER GRID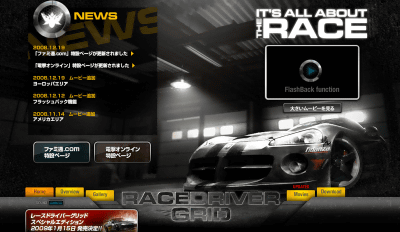 · Genre
Racing simulation
·Maker
Code Masters
·information
A beautiful graphic is realized by the next-generation game engine "EGO engine". Collision / Behavior · High-level rival car, and unexpected race development and excitement which has never experienced before now can be tasted. Various courses composed of distinctive racing styles are prepared for each region on stage in Europe, America and Japan, and you can experience race scenes with up to 20 vehicles. A special edition that includes a campaign code for downloading free 8-bit DLC "8 BALL" pack, which is packed with 8 new models and 2 online events, is released, and after the special edition sale finishes, it switches to the regular version.
·price
Special edition: 7140 yen (tax included)
Regular version: 7140 yen (tax included)
· Scheduled release date
January 15
---
◆
Left 4 Dead (Left 4 Dead)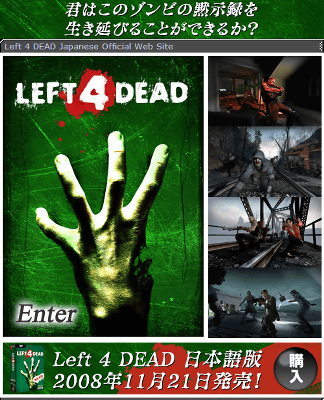 · Genre
action
·Maker
Valve
·information
An action game in which the battle of four survivors confronting the zombies of attacking zombies and hideous mutant zombies "special infected person" is drawn. So far as "zombies" is said to be slow, it is a market price, but the zombies that appear in this game are attacking with a furious dash and you can enjoy the feeling of the hero of a panic movie.
·price
7665 yen (tax included)
· Scheduled release date
January 22
---
◆
End war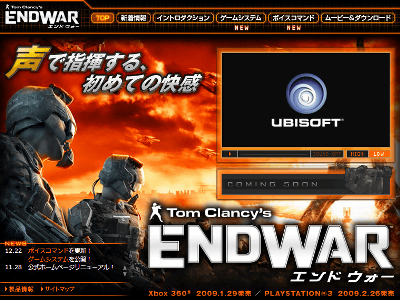 · Genre
Real time strategy
·Maker
Ubisoft
·information
In the "Tom Clancy" series's first real-time strategy, the objective is to choose one power from America, Europe and Russia and to fight the Third World War. During the battle all instructions can be done by voice, you can feel the feeling that you became commander. With multi titles with PS 3, PS 3 version will be released on February 26.
·price
7329 yen (tax included)
· Scheduled release date
January 29
---
◆
TOMB RAIDER: UNDERWORLD - Tomb Raider Under World -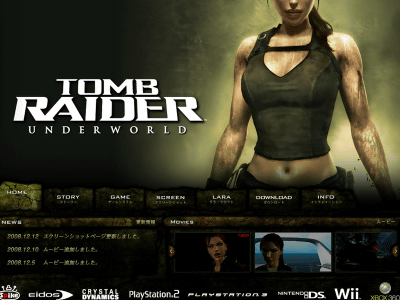 · Genre
Action Adventure
·Maker
spike
·information
The latest work of popular series appeared as an adventurer Lara Croft as hero. Lara who was exploring in the ancient ruins sleeping in the depths of the Mediterranean seems to have something in between the mysterious land "Avalon" that the respecting father has been pursuing and the mother of Lara suddenly disappeared I realize there is nothing. To unravel its truth, Lara decided to step into the ancient land "Underworld" which was buried in the darkness of the world. And, in the middle of a journey to solve the mystery of the mother, I know that the mythical weapon which has a terrible power to destroy all of the world and God exists. PS3, PS2, Wii, multi title with Nintendo DS.
·price
7140 yen (tax included)
· Scheduled release date
January 29
---
◆
NINJA BLADE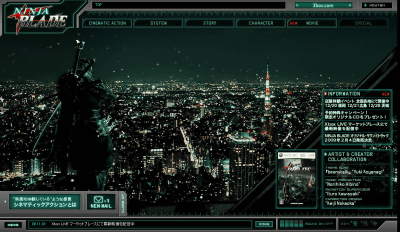 · Genre
Cinematic action
·Maker
From software
·information
"Cinematic action" game where all the game parts are connected without interruption, leaving a realistic feeling as though it had become the hero of an action movie. A parasite that makes a human being a monster will explodely spread in Tokyo and the United Nations will decide to annihilate Tokyo by region. There is only a little time left before the destruction of Tokyo, only one person can save this situation.
·price
7140 yen (tax included)
· Scheduled release date
January 29
· Upcoming Xbox 360 software release schedule list
October 2008
/
November
/
December
January 2009
/
February
/
In March
in Game, Posted by logc_nt