"Expectation of animation broadcasting from January 2009", number one is "Minamike Welcome back"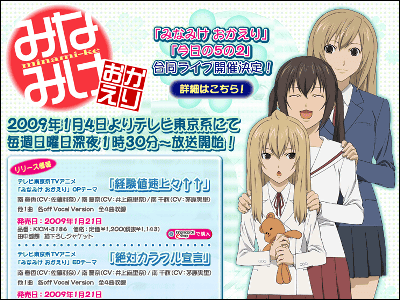 As a result of the survey conducted by Entertainin Limited Company for more than 900 animation fans, 'Minamike Okaeri' glowed in No.1 in the ranking of new works that will be broadcast from January 2009. What a support rate is 32%, a difference of 10% to the second place.

2nd place is "continuation · Natsume friends book", 3rd place is "girl who spaces the universe", 4th place is "Regios of steel shell", 5th place is "Maria sama ga miteru (4th season)", the top 5 Out of the three works are sequels.

Details are as below.
Operated by entertain limited companyWhy do not you animate? blogThe result of voting the expectation degree of the new animation starting from January 2009 for registered members and viewers was clarified in. Ranking is as follows.

First place:Minamikake Welcome back(323 votes)
Second place:Natsume Yujincho(221 votes)
3rd place:A girl who places the universe(142 votes)
4th:Legios of the steel shell(141 votes)
5th place:Maria-sama ga miteru(125 votes)
6th place:Maria Holic(117 votes)
7th place:Kurokami The Animation(99 votes)
8th place:Hetalia(90 votes)
9th place:Akkan!(87 votes)
10th place:Tower of Druaga the Sword of URUK(71 votes)
11th place:Major 5th Season(63 votes)
12th place:WHITE ALBUM(61 votes)
13th place:Genji Monogatari Millennium Genji(60 votes)
14th place:Hajime no Ippo(56 votes)
15th place:Tomorrow's good!(53 votes)
16th place:Iron arm birdie DECODE 2nd term(47 votes)
17th place:Slayers EVOLUTION-R(46 votes)
18th place:Shikabane Hime Gen(39 votes)
19th place:Erin playing beast player(30 votes)
20th place:VIPER'S CREED(21 votes)
21st place:RIDE BACK Ride back(17 votes)

The top "Minamike Okaari" gathered one third of the voters' votes and received a support rate of 32%. As a completely new work, "Girl who spaces the universe" is showing a good fight to enter third place.

The number of respondents was 981, including 657 males and 324 females. By age / occupation, 49 primary school students (9 to 12 years old), 167 junior high school students (13 to 15 years old), 167 high school students (16 to 18 years old), 16 29 people, 196 college students (19 to 22 years old), 59 part-timers (18 to 29 years old), 20 fellows (30 to 40 years old), 20 people (18 years old to 29 years old) 157 people, 88 people for social workers (30 to 40 years old) and 49 people over 40 years old.

Apparently, it seems that animation fans have a tendency to expect expectation for "the sequel that can be seen with confidence in the previous work" than "an unknown work I do not know unless you see what it is". There seems to be reasonable reason for the sequel which does not increase much votes here.
in Anime, Posted by logc_nt