"07-GHOST" in series "Comic ZERO-SUM" animated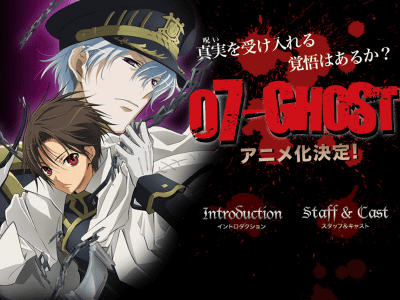 I ShinshaManga magazine published by "Monthly comic ZERO-SUM"Yoki Amemiya & Manga Ichihara Yukino serialized in"07-GHOST (Seven Ghost)"Will be animated.

Although it is not a major magazine "Comic ZERO-SUM", it seems that there are many manga that are animated somehow somehow.

Details are as below.
Anime "07-GHOST" official website

The director is "Toyaki Yuugi" "Tokimeki Memorial Only Love"Norihiro Takamoto, The series composition is "Moyashimon" "Lovely detective labyrinth" "Steel Sangokushi" ofTakahashi Natsuko, Music is "Code Geass - Lelouch of the Rebellion" "Gun × Sword" "Planetes"Kotaro Nakagawa.

Tate who dreams of the landscape of the Kingdom of Raggs on the verge of castling dream many times, but when I met Ayanami, chief of staff of the combat troops, Tate said the landscape that he was dreaming of is a reality, the prince of the Kingdom of Ragus Remembering that it was ... the synopsis of the story. The one who plays the role of the main character Tate isMiki Saiga, Ayanami as chief of staffHayami Shinku. Other, as a bishop Frau helping TateJunichi Suwabe, Bishop of CastresProgress in Chiba, As a bishop of LabradorYuki Miyata.

So far from the comic ZERO-SUMSaiyuki RELOAD,LOVELESS,Ball-roaring play,AmatsukiIt is made into animation. Although it is a magazine that can not be bought at convenience stores etc., there seems to be a lot of works that are quite animated.