Requests for programs that you would like to rerun on NHK Educational TV, such as "Oi! Hane Maru" and "Collector Yui" are being recruited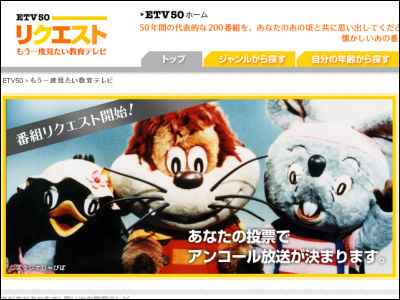 NHK Educational TV seems to be broadcasting 50 years on January 10, 2009, and we are accepting requests for programs that we would like to rebroadcast. It is a program that was broadcast on NHK Educational TV from 1959 to the present, and seems to be able to request all from infant program to animation · documentary program.

Since there are many long-awaited programs as long as history, please check it if you want to see the program again.

Details are as below.
NHK Online | ETV 50 - Request Educational Television Looks Again

As a method of searching for a program to request, "Search by genre"When"Search from my ageThere is, and it seems that you can also request a program name and a message for a program that you did not find.
The request recruitment period is until October 31, 2009. You can only request one program at a time on the same program but you can request more than one program.

It was the protagonist of the Social Studies program "Tennenboku no Machi"Mr. Cho's blogSo, since the tape of "Takenenboku no Machi" is not left in very good condition, it is reported that this time may be the last chance.

Let's play with Bow-wow! Announcement | yesterday's tomorrow (Official blog of voice actor Cho)

Tennen My town,

Tape situation already

Those that are discarded and are in good condition

A story that there is little left

I heard it, so if I let it go

It may not be able to see forever.

Come, please request.

The programs that can be requested are as follows.

■Infant / child
"Kokonko, Pin"
"Pitagora switch"
"Can you do it?"
"You can do it alone!"
"Hey! Yanmaru"

■School broadcasting
"Masu of one"
"Tennenboku no Machi"
"It's non-tack"
"Sawawaka 3 pairs"
"One to two"
"Let's go and see"
"Stretchman"

■Boys, girls, young people
"Genius Tribe"
"Junior High School Diary"
"Seishun Cherry Blossom"
"Seriously teenager chatting place"

■Animation / Drama
"Yadamon"
"Azuki-chan"
"Fly! Isami"
"YAT Safety! Space Travel"
"Collector Yui"
"Kasmin"
"Zukkoke Threesome"
"Esper Mami"

■Hobby Practical and Language
"Today's food"
"Sesame baby"
"Hobby riot"
"German course (conversation)"

■Welfare · Economics · Science
"Welfare for tomorrow"
"NHK Everyone's Sign Language"
"Hyundai Yu Yu"
"Salaryman Life"
"Science eye"

■Education · art
Special edition "Japanese management Konosuke Matsushita"
Special edition "Mamoru Moki Atsushi talking with this person"
ETV Special Issue "Tezuka Osamu's Legacy Father's Back - Reading Tezuka Osamu Diary ~"
ETV Special Issue "I wish I could do such a thing - Fujiko, F · Fujioio's world ~"
"World Museum of Art" Travel
"Nichiko Hour"
in Note, Posted by darkhorse_log