The savior of soaring terminal price? Google's "Android" mobile phone has lower manufacturing cost than iPhone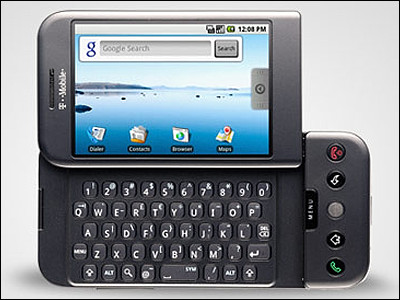 Although it is a problem that mobile phone terminals are skyrocketing due to revision of "incentive model" which makes mobile phone terminals cheap by sales incentives based on call charge income,A high-function terminal "G1" adopted Google's mobile phone OS "Android" announced in SeptemberAs a result of investigating the manufacturing cost, it seems that it is very inexpensive.

this isThose whose manufacturing cost is lower than iPhone 3G which is very inexpensiveAnd it may become possible to suppress the main unit price of mobile phones in the future.

Details are as follows.
T-Mobile G1 Carries $ 143.89 BOM Cost, According to iSuppli Estimate

According to a survey of iSuppli which investigated the manufacturing cost of the iPhone 3G, the manufacturing cost of "G1" seems to be 143.89 dollars (about 14,000 yen). By the way, Apple's iPhone 3G 8GB model is $ 174.33 (about 16,900 yen).

And among the manufacturing costs of "G1", the highest is baseband chip at $ 28.49 (about 2770 yen), followed by 320 × 480 3.2 inch touch screen with $ 19.67 (about 1910 yen), auto The focusing 3.2 megapixel camera is $ 12.13 (about 1180 yen), and the HSDPA compatible communication module is $ 9.84 (about 960 yen).

It has functions such as Bluetooth, wireless LAN, and acceleration sensor, it has not only the touch screen but also the QWERTY keyboard, and it is "G1" which can use a lot of services provided by Google, but at this low cost It might be wonderful to say that manufacturing is possible.