Miracle bra saved lives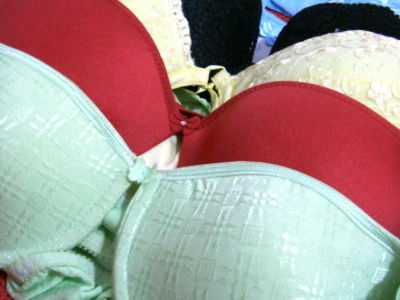 Speaking of a brassieres, underwear worn by a woman can see objects of sometimes unusual design, but life is saved by a cheap bra with no hints under the situation of the big pinch encountered during work break It seems there was a woman.

Besides, this woman is very powerful, it seems that the culprit was also surprised and came to arrest the criminal.

Details are from the following.
Stabbed girl saved by £ 6 bra | The Sun | News

Vicky Parsons (26 years old) was saved lives by the bra this time. When I was taking a break in the car between work, the boy who wore the mask suddenly opened the window of the car, asked to grab the head of Vicky and request cash. Mr. Vicky seemed to be a mischief at his colleague at the beginning, but he noticed that he was a real robbery who struck a big knife from behind. She felt dangerous and seemed to thrust a knife thrust at the throat but he said that he had broken his hand. After that the criminal seems to have come to think "please give me money!", But he seems to have been blowing down the criminal without losing Mr. Vicky.

The culprit who gave up escaped by sticking a knife in his chest. However, because the place where the knife stabbed was just the wire part of the brassiere, Vicky was slightly injured. Mr. Vicky stabbed was shallow, he quickly jumped out of the car, stopped the passing car, chased the culprit, and was able to catch the culprit with the help of the two people aboard the car. The criminal's boy seems to have denied the charges, but he seems to have been arrested for the current criminal.

The bra that rescued Vicky 's life was 6 pounds (about 930 yen) and it was a new thing that he still wore a few times only.

A bra that was worn by Mr. Vicky at the time of the incident.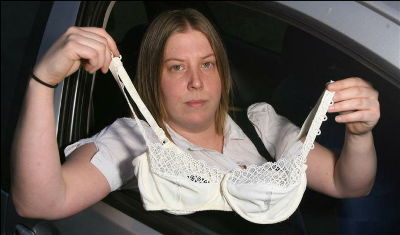 It is surprising that the strong luck that hit the wire part of a brassiere by chance is also surprised, but it is also surprised that he caught him after chasing the criminal.
in Note, Posted by darkhorse_log