New Eee PC with dual core CPU will appear in early next year, or iMac-like integrated PC "EeeMonitor" will be released soon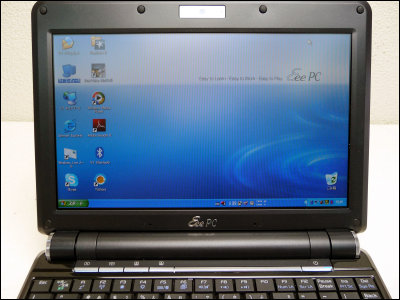 Various new models such as "EeePC901" which has enhanced functions in Japan and "EeePC S101" thin type mobile phone model, EeeBox small and inexpensive has been popular since the first launch in Japan this January ASUS's "EeePC" series, but in early next year a new model introducing a dual-core CPU and touch interface appears to appear.

Also, as soon as the iMac-like integrated model "EeeMonitor" will also appear.

Details are as follows.
Electronista | ASUS plans touchscreen, dual-core Eee PCs

According to this article, ASUS will announce the latest model of EeePC at "Consumer Electronics Show" to be held in January next year.

This is based on Intel's dual-core Atom processor which is currently developed, and in theory it is possible to process 4 program threads concurrently, so performance will improve. Also, it is said that a touch screen is also installed.

According to Jerry Shen, ASUS CEO (chief executive officer), it is said that "EeePC" should be less than $ 300 during 2009, so 300 Regardless of whether it falls below the dollar or not, it seems to be a suppressed amount to some extent.

Electronista | ASUS iMac rival on pre-order, to hit $ 450 in US

IncidentallyPreviously I talked about GIGAZINEAlthough it is an integrated computer of iMac style design "EeeMonitor", this is said to be released on November 20th in the USA.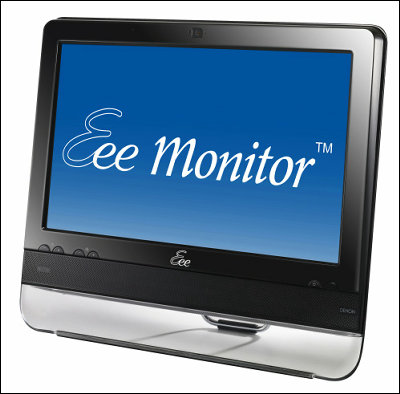 "EeeMonitor" is a model equipped with a 15.6-inch LCD monitor and Atom processor, 1 GB memory, 160 GB HDD, 1.3 million pixel camera, IEEE 802.11 b / g / n, 4 W stereo speakers, OS is Windows XP Home Edition Adopted. The price you care about is $ 450 (about 46,000 yen).

For detailed specifications the following links are detailed.

Play.com (UK): Asus Eee All-In-One-Touch Screen PC ETP 1602-WT-X 0010 / Intel Atom 1.6 GHz / 1 GB / 160 GB / 15.6 "Wide Panel Touch Screen / Windows XP Home / Desktop PC / White: Computing - Free Delivery