ASUS's EeePC has found a new virus contamination, this time to the attached external HDD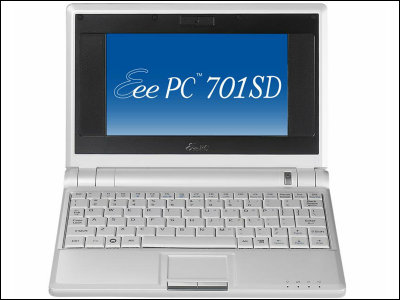 ASUS's recently at GIGAZINEThe virus was mixed in the D drive of the Eee PC series desktop version "EeeBox"We reported that after follow-up investigation, it seems that we discovered that there are newly contaminated products.

Details are as follows.
According to the announcement of ASUS, in "EeePC 701 SD-X" selling on September 20, there is a possibility that a virus is mixed in part of the 30 GB external hard disk drive that is included It seems that it turned out.

The virus was not mixed in the main body like EeeBox, but it was said that it was mixed in the 30 GB external HDD that is being produced at another factory, and the virus with the possibility of contamination is Trend Micro anti-virus countermeasure According to the result of detection with software, Trojan horse type "TROJ_GAMETHIE.RZThat thing.

In order to steal passwords and other information from some online games, this virus calls for not doing an online game with an external HDD connected.

After examining 1,000 external hard disks to be shipped, it was said that 20 viruses had been infected. In response to this, we stopped selling "EeePC 701 SD-X" from today and externally attached HDD It is said to collect.

In addition, we will pre-install Symantec's "Norton AntiVirus 2009 60 day free trial version" on the replacement external HDD, and we will start shipping from October 17th (Friday) sequentially.