I think that it is delicious to put this in curry 1st place is "garlic"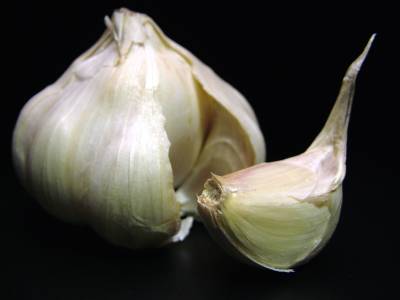 In DIMSDRIVE of net research operated by Interwired Corporation, as a result of conducting a questionnaire to 9921 people on "curry", I think that it is delicious to put it in curry, "garlic" the first place is "garlic", the second place is "azalea" The third place seems to be "chocolate".

In addition, it is packed with curry information which is quite interesting, such as "favorite brand of commercially available roux" popular curry menu other than sex or curry and rice.

Details are as below.
Survey on curry rice / net research DIMSDRIVE's public questionnaire survey result 【DIMSDRIVE】

Roughly summarizing it is like this.

◆ 20% of men "eat curry and rice more than once a week"

◆ 91.9% like "curry and rice"

◆ When you want to easily cook and eat, more than half of living alone use "retort pouch"

◆ The brand of the favorite commercial ruby, men are "JAVA curry", women "KOKUAMARU Calais"

◆ What emphasizes on commercial curry roux is "condition of spicy" and "rich"

◆ It is delicious to put this in curry! "Garlic" "Nanto" "Chocolate" "Coffee" Recommended

◆ "Curry" popular except for curry and rice, 1st place "curry udon", 2nd place "curry bread"

Looking at the contents of curry rol by single answer instead of sex separately will be as follows.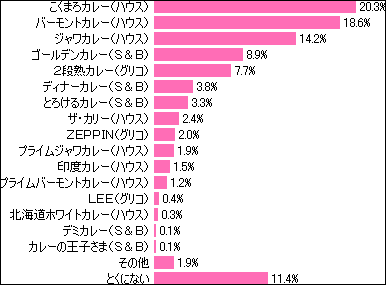 A list of recommended ingredients and seasonings, such as "Delicious if you put this in" for curry rice is as follows.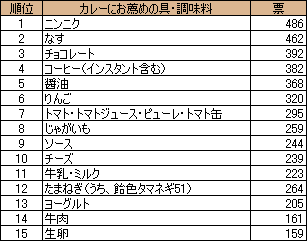 In addition to curry and rice, the result of asking "food using the most favorite curry" with free reply is also interesting as follows.



The Japanese curry seems to be very tasty, it is quite interesting because there are enthusiastic curry love articles by American reporters as follows.

"Go-go Curry NY store" spoken by American reporters who love "Japanese curry rice" | WIRED VISION

New York - Japanese curry is the most complete curry in the world. If there are people who disagree with this, the reason is that I have never eaten Japanese curry.
Personally, people who have Indian husband in acquaintance buy a variety of instant curry everyday, saying "Japanese curry is more delicious than Indian curry! It's the best in the world!" , I bought curry rou more and I am eating, and I am eager to eat it, so it is very empathetic, so maybe the above American reporter 's enthusiasm is not that it is overwhelming.