To celebrate the first anniversary of that "free - of - a - kind", from today the special large sale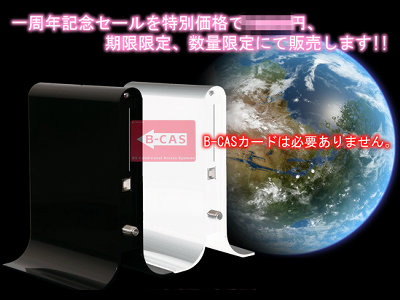 On October 25th last year, we began selling on October 25th, and in April of this year, a copy-free terrestrial digital broadcast tuner "Freio" that a black model of the BS / CS compatible model appeared also appeared, in commemoration of the first anniversary of release, special sale It was revealed to do.

We adopted an outrageous method and B-CAS card became unnecessaryAlthough it is free, it may be good news for those who are expensive and unreachable.

Details are as follows.
Friio - Digital Hi-Vision TV Adapter "Freeio"

According to this page, it is said that both today's model for "terrestrial digital broadcasting" of "free" and the black model of BS / CS correspondence model will be offered at a special price from today. Quantity and limited time period.

PurchaseOrder pageYou can do with Paypal account or credit card for payment.

Although the price has not been released yet, it is very worrisome ....