It is still early to buy Xbox 360, we should wait for a while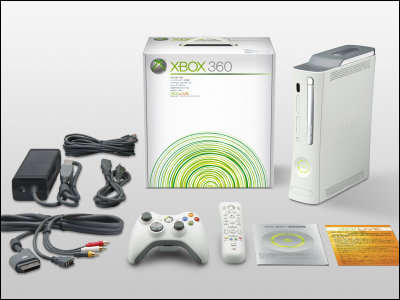 Previously at GIGAZINEThe standard model of Xbox 360 is out of stockAlthough we reported, it seems that there is still handling in some stores.

However, it may be better to avoid purchasing the stock of the standard model of Xbox 360 until now.

Then, when to buy, details are as follows.
Xbox.com | Apologies for Xbox 360 Body Out of Stock

According to the press release mentioned last time, Microsoft has announced the inventory situation of the Xbox 360 standard model as follows.


At present, Microsoft is keenly engaged in the production of the Xbox 360 main unit, and we plan to ship the next September for the standard model. For elite and arcade models, we will ship them sequentially. Please wait for a while until the arrival of goods.
According to this announcement, Microsoft seems to be planning to ship the standard model of Xbox 360 in September, but apparently the next time the standard model Xbox 360 will be shipped, it is not a model with the current 20 GB HDD, but a 60 GB HDD It is estimated that it will be a model equipped with.

Because 60GB model which tripled HDD capacity is released from early August as a standard model of new Xbox 360 to replace the existing 20GB model towards the American market and so on, and 20GB model is also reduced by 50 dollars It is because it is hard to think that we will reproduce the 20 GB model only for the Japanese market as we are taking stock disposal.

Xbox 360 Console Now Offers Triple the Storage for Same Price: 60GB storage now included with Xbox 360; 20GB console will drop to $ 299.99 in U.S. and Canada.

According to the following link, since all models of Xbox 360 elite, standard and arcade will fall from September 7, the standard model Xbox 360 shipped in September is "A cheaper 60 GB model than the current 20 GB modelIt seems there is a possibility of becoming.

Best Buy advertise more more evidence of Xbox 360 price cuts - Engadget

Although I do not know whether it really will be, in September from Square Enix as RPG for Xbox 360Infinite Undiscovery"On November 20,"Last RemnantEven if it is thought that two works of 'release' will be released, is not Microsoft likely to put in a leash?

By the way, although it is information of unknown (wholesale / wholesale?), As for the talk that Microsoft announcement related to Xbox 360 will be carried out on September 1 and the price change of the main body will be carried out in some cases, for the time being September It may be a good idea to wait for some announcement to be made on the standard model of Xbox 360 shipped to.

2008/08/31 18:39 Addendum
The Xbox 360 main unit (60 GB) seems to appear on September 11th, 2008 at 19,800 yen (tax included).
http://www.ubook.co.jp/shop/goods/goods.asp?goods=1507338