High-performance low-priced desktop "EeeBox" has appeared, it is compact, silent and low power consumption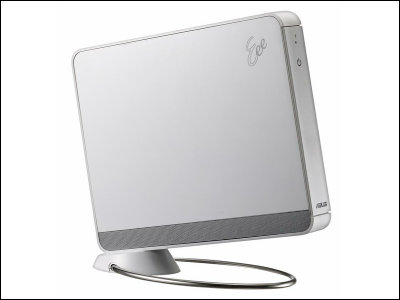 Previously at GIGAZINEThe fact that "EeeBox" to be the desktop version of "EeePC" has appearedWe decided to release in Japan at last.

Despite being a very inexpensive model, it has high performance, and it also realizes compactness, low power consumption and silence that can not be thought of as a desktop personal computer.

Details are as follows.
According to ASUS, from September 13 it seems to release "EeeBox" black and white models.

"EeeBox" OS is Windows XP SP3, Atom processor N270 (1.6 GHz), 1 GB memory, 80 GB HDD installed. It has 1000BASE-T / 100BASE-TX / 10BASE-T wired LAN and wireless LAN compatible with IEEE802.11b / g and IEEE802.11n as a communication function, and supports multi-card slot and two USB 2.0 ports etc. Adopted as an interface.

Also, since the main body is a super compact body with a width of only 26.9 mm and a volume of 1 liter, it can be mounted on a liquid crystal display compatible with VESA 75 / VESA 100. In addition, with the super power consumption of 20 W and the noise in the library It achieves 26 dB operation sound below 40 dB to be done.

In addition, the Express Gate function which is capable of web browsing with about 7 seconds quick launch is installed as standard, and online chat and Skype etc. can also be used. The expected actual selling price of EeeBox main body is 44,800 yen, 15.6 type wide liquid crystal display set is 59,800 yen, 19 type wide liquid crystal display set is about 64,800 yen.

This is a black model.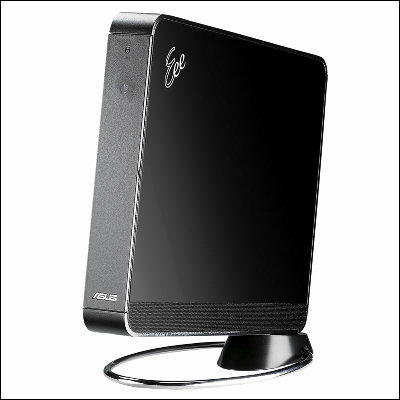 15.6-inch wide liquid crystal display. Black and white can be selected according to the main body color.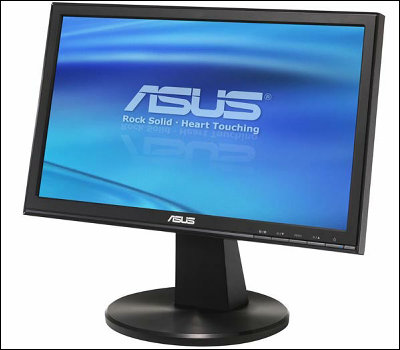 Although it is a very inexpensive and high-performance desktop PC, browsing etc. is very good as a machine for the main light users, is not it?

The details of "EeeBox" are detailed in the following link.

ASUS | Eee Box