Sony Announces PS3 160 GB Model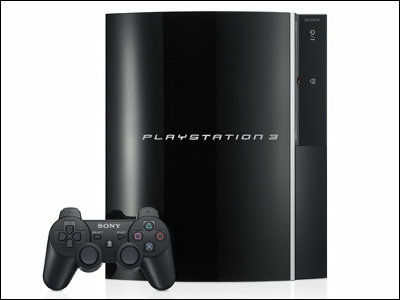 Sony previously in GIGAZINEPS3's 80GB model to be released in SeptemberWe announced a new 160 GB model though I told you.

ApparentlyIt became possible to record digital broadcasting with PS3And, completely new animation"Zamdo of death" is exclusively delivered to PS3It seems that it is anticipated that the situation that large capacity HDD will be required will increase in the future.

Details are as follows.
SCEA: 160 GB PlayStation 3, Uncharted, Pain, DualShock 3 for $ 500 - Joystiq

According to this article, Sony is said to release the PS3 of 160 GB model from November for the North American and European markets.

The 160 GB model includes DualShock 3 controller and game software "Uncharted: Drake's Fortune", and game software distributed on the PLAYSTATION Network "PAINIt will be 499 dollars (about 54,000 yen) with bundled coupons.

By the way, the 80 GB model is planned to be released at the same price as the 40 GB model at 399 dollars (about 43,000 yen), and the newly released 80 GB model and 160 GB model both have a 40 GB model and specification other than HDD capacity Considering that it does not change, PS3Users can exchange HDDs purchased with computer shops etc.It may be good to take advantage of the feature that you are trying to replace HDD yourself.

According to the following link, the 320 GB model of 2.5 inch HDD with Serial ATA connection adopted in PS 3 is 8980 yen.

Price .com - WESTERN DIGITAL WD 3200 BEVT (320 G 9.5 mm) Compare Prices

By the way, do you have plans to release the 80GB model or the 160GB model in Japan ...?