Capsicum "Dorset Naga" which is said to be the world's hardest in the world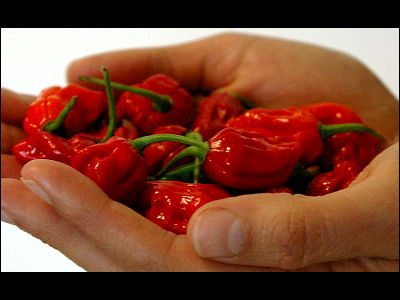 I do not know why it is necessary to pursue the spiciness so far, but even among the many peppers that make the world spicy mania "even not so much in the official record, is not really the world's hardestness in fact?" It is said that this "Dorset Naga(Dorset · Naga) ".

What kind of chili is, what you care about is as follows.
Phew, what a scorcher: The world's hottest chilli pepper - the Dorset Naga - comes to Tesco | Mail Online

The price is 89 pounds (about 18,000 yen), 3 pieces entered, 10 grams. Unit that weighs hot pepper "Scoville valueOkay.920,000, In the UK television program1.6 millionIt was said that the value was shown.Origin is IndiaIt seems to be.

You can see how you are actually growing up from the following.

Chilli blog Dorset Naga ripe

(Vegetables) (Fruits?) Dorset Naga - Horticulture gardener's gardening diary

(Vegetable) (In Fruit) Dorset Naga - Horticulture Gardener's Gardening Diary

Also, a picture of "Hell Inigiri" using this Dorset Naga is on the following page.

Chilli Blog Dorset Naga's hell rice ball and soy milk Tom Carguy & Bhut Jolokia ripe fruit

Naming "Hell Inigiri"
It is told that "Try to eat with courage!", But it seems that it is painful as it actually holds w
However, the scent of rice and Dorset Naga match and it is very delicious.
Let 's try a little bit in the future.
The main ingredient that brings pungent taste of chili "Capsaicin"Pure crystals are exhibited at overseas auctions.

Pure capsaicin, hot pepper extract, hot sauce, spice - eBay (item 320286237045 end time Aug - 17 - 08 21: 12: 31 PDT)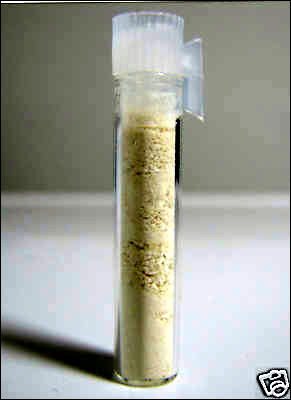 What is it used for ... ....
in Note, Posted by darkhorse