In Akihabara, the street wanders, one after another with a truck slashed with a knife, seven people died


According to the press of each press, on the 8th, around 12 o'clock in the day the enemy appears on the street near the JR Akihabara station. After hitting a passerby one after another with the rented truck, it came down, came down one after another with a survival knife, at least 14 people were stabbed, and seven people died. In the meantime, it is only 5 minutes. The picture above is a photograph from a reader, a story poster. The culprit "I came to Akihabara to kill people"I am stating.

Details of photos and movies are below.
The incident occurred around 0:30 pm today, on the street near JR Akihabara station in Sotokanda, Chiyoda-ku, Tokyo

View Larger Map

The man took a passerby by a truck, descended from the truck and raised a loud voice that the survivor knife cut the passerby one after another. The site was a pedestrian heaven and there were a lot of shoppers.

At the moment 19-year-old male, 20-year old male, 21-year old woman, 29-year old male, 47-year old male, 74-year old man died. Two of the deceased people have unknown Kanji, but Fujino Kazunori (19 years old) and Katsuhiko Nakamura (74 years old). There are 12 people injured.

A suspect who was arrested stated that he was tired of his life. The truck is a Shizuoka number rental car. After getting past the car at the intersection, passing by by car, he got down from the truck with a knife and laughed, striding over the fallen person and stabbing it.

According to another witness, after the sound of a car hit, a scream was heard, the criminal's guy and the policeman faced each other, and the criminal's knife and the policeman's baton were hit several times . After that, a police officer pulls the handgun from his waist and warns "throw out the knife". It seems that the criminal finally threw it away and discarded the knife and was seized.

The criminal is currently being investigated by the Manjyo bridge police station, and he is investigating the detailed situation and motivation of the crime.

Two people are carried in Nippon Medical College attached hospital, and both are men. One of them is stabbed in the right chest and is under emergency operation. The other person is stabbed on the back. A 19 - year - old man died in Mitsui Memorial Hospital died. At the Tokyo Jiyugukai Medical University Hospital, we confirmed the death of a 74-year-old man. At the Tokyo Women's Medical University Hospital, the death of a 47-year-old man was confirmed. We confirmed the death of a 29-year-old man at Tokyo Metropolitan Government. At the International Medical Center in Shinjuku Ward, although a man in her twenties was receiving allowance, he died. Three people were transported at the Tokyo Medical and Dental University Hospital, one of whom was carried was a woman who died of bleeding and was dispatched to an electrical store near the site. Two men are being transported to Nippon Medical College Hospital, of which 52 male is stabbed in the right chest and 27 years old is severely injured because the lung is stabbed. A police officer was transported to the University of Tokyo Hospital and he was stabbed on the right flank to protect a passerby who was about to be attacked by the criminal, but the condition was light.

Akiba incident in Akiba

A 25-year-old man committed innocence in the daytime, 18 people broke down in Akihabara 6 people died: society: YOMIURI ONLINE (Yomiuri Shimbun)

Asahi.com: By car, pierced one after another with a survival knife - Society

Current affairs dot com: Passenger trashes at Akihabara = 14 people injured, 5 people stopped cardiopulmonary - secured a man · Metropolitan Police Department

Passenger 5 people Cardiopulmonary arrest

NHK News Akihabara wanderers 5 people Cardiopulmonary arrest

A man is criminalized near the scene, and according to the Metropolitan Police Department it is said that he is a 25-year-old gangster.
In Akihabara, 13 witnesses were injured, 5 of whom stopped cardiopulmonary

According to the Metropolitan Police Department and eyewitnesses, the man riding a 2-ton truck ride and hit 4-5 passersby, he got off the truck and stabbed the passersby with a survival knife one after another. There were 10 males and 3 females, including male police officers of the Transportation Division of the Agency Banjyo Bridge, who got injured.
Arbiter of Akihabara wanderer, two people died 25-year-old man

In addition, the Metropolitan Police Department arrested Tomohiro Kato, 25, an unknown address and occupation, on the afternoon of August 8 on the occasion of attempted murder.
Daily Sports online / Passerby stabbed in Akihabara 5 people Cardiopulmonary arrest / major news
Doctors who were present at the scene also rescued the rescue AED holding - MSN Sankei News

A male doctor who was present at the scene and rescued himself, said, "At the moment the car got in, I heard a loud voice called ca. When I came running, the campaign girl-like white clothes of a mobile phone were bitten by a woman and a woman was bitten." Told the scene of the situation vividly.
Akihabara gunmen incident, pedestrian heaven big panic - social news: nikkansports.com

According to a male clerk at a personal computer store in the neighborhood (33), immediately after a man approached a police officer nestled close to the injured, a policeman caught hold of the waist and fell down. A voice called "run away" came up, which means people were scattered at once.
Two people died when a man stabbed a passerby or a police officer in the car in Akihabara (1/2 pages) - MSN Sankei News

Daily Sports online / Three people died in Akihabara Pedestrians arrested / Arts society preliminary bulletin

CNN.co.jp: Akihabara wanders, three people stab more than 15 people died

Familiar in Akihabara, ten or so people dead and injured pictures 5 international news: AFPBB News

Kami at Akihabara, 3 deaths 2 people Cardiopulmonary arrest - TUF breaking news

"Two ton trucks ran at a tremendous speed"
"The truck zigzags down to 4 or 5 people at the intersection."
"A man with a knife came down, thinking it was a traffic accident, I was nearly stabbed, too (like a man was laughing ...)"
"It was a massive bleeding as it flowed on the road"
"A man with a knife stabbed it"
"Two passers-by who tried to stop (men) running away are stung" (witnesses)
Current affairs dot: Kami in Akihabara, three deaths = more than 10 people injured, cardiopulmonary arrest also being arrested - 25 years old - arrest / Metropolitan Police Department

【Akihabara Freemason Incident】 Man, a strange man, with survival knives one after another ... - MSN Sankei News

Current affairs dot com: "Otaku culture" in the place of the guru = foreign communications company urgent report

Asahi.com: Indiscriminate killing 5 people in Akihabara, 12 people injured - Society

It is said that drugs and other effects are not seen in men.
【Akihabara Freemason Incident】 "There is no choice but regrettable ..." Wife of a 74-year-old man who was killed, voice trembles - MSN Sankei News

Mr. Nakamura has never been to Akihabara and he said that he was comfortable saying "I eat lunch with my eldest son" on this day.
NIKKEI NET (Nikkei Net): major news - important news in each field is posted

According to the investigation, he said that he came to Akihabara to kill people, anyone was okay, the world got disgusted.
"A man riding a man on top of a car and stabbing it with a knife many times. While walking towards Akihabara station, he broke down to the nearby people at random."
You can see the movie from the following.

NHK News 14 Astronauts injured in Akihabara

Tokyo · Akihabara gunmen incident The guy secured personality is 25 years old and it is said to be "Kato"

Tokyo and Akihabara gunmen incident 16 people injured, 5 of whom arrested a 25-year-old man in cardiopulmonary arrest

NHK News Akihabara the enumerator To the dead five people

FNN News: Tokyo / Akihabara indiscriminate killing ...

NHK News Akihabara gunmen incident To the dead six people

2008/06/08 15:03 Addendum
Tickets from readers, site of seizure of criminals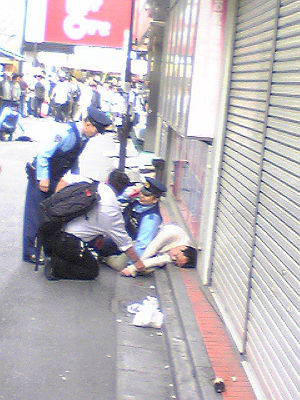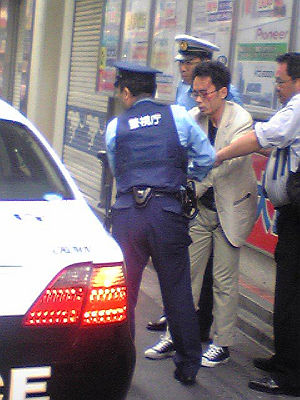 2008/06/08 17:41 Addendum
We updated the latest information. Moreover, it was confirmed that the image of Tecomi is a criminal.

[Akihabara gunmen incident] To the dead six ... "I came to Akihabara to kill people," Kato - MSN Sankei News

According to the investigation, Kato departed from Shizuoka prefecture's Susono city living in the morning on a rent-a-car and came to Akihabara.
A wrestler in Akihabara, a dozen or so deaths 6 photos International News: AFPBB News

On the 8th, it was just seventh year from the child killing incident at Ikeda Elementary School attached to Osaka Kyoiku University on June 8, 2001.
Cutlery Man, crying ascetic one after another Raid ... Eyewitness "I stabbed my belly and chest many times": Society: YOMIURI ONLINE (Yomiuri Shimbun)

According to a man at a part-time job (19) who saw the moment when the suspect was arrested, a uniform police officer covered it from above and seized Kato suspect by shutter. Kato was shedding blood from his forehead, but he said he did not seem to resist much. Immediately after nearly ten policemen gathered, Kato was taken to a police car while holding both sides.
Current affairs dot com: "Run away" "Call an ambulance" = one after another, a person who falls down, people ... - Ariga Araki

"Everyone, run away, run away." People shout at each other, making it a noisy atmosphere.
Armor: 5 people died in Akihabara, 13 people injured ... Shizuoka's 25-year arrest - Ryukyus Shimpo - Okinawa newspaper, regional news

The truck stopped tens of meters away, a man wearing a pair of glasses wearing a beige jacket got off the truck, walking back in the direction of the intersection while holding a knife in his hand, he hit the police officer. Before and after, he stabbed himself as a horse rider to the pedestrians, but at that time the man said that he was crying out as "Wa" "Ca" and laughing while laughing.
【Akihabara Freemason Incident】 Become a horseback ride, returning to the blood ... while moment of impact (1/2 page) - MSN Sankei News

2008/06/08 18:12 Addendum
It is reported as top news overseas.

BBC NEWS | Asia-Pacific | Six dead in Tokyo stabbing spree

Japanese man kills six in Tokyo stabbing rampage | World news | guardian.co.uk

At least 7 dead in Tokyo stabbing spree - CNN.com

2008/06/08 18:20 Addendum
Tare-komi from the reader, the state of the site around 12:53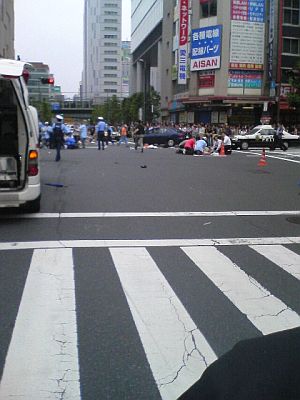 2008/06/08 18:49 Addendum
【Akihabara Freemason Incident】 Seven deads ... Kato suspects no drug response - MSN Sankei News

【Akihabara Freemason Incident】 Curtain Shutdown Secret Shizuoka's Criminal's House - MSN Sankei News

Kato Tomohiro (25), a suspect in a residential area along the national highway No. 246 in Shizuoka prefecture, was sent to his apartment at 4 p.m. on the 8th, two investigators arrived. We photographed the entrance of the room on the 3rd floor where the office worker seems to have borrowed. Nothing is dried in the veranda, the curtain seems to have been quiet closed and quiet.

"At the hospital where the phantom victim was carried" News i - TBS video news site

Akihabara gunmen incident, Chinese media also breaking news - China real IT situation

Akihabara Armor: Photographing suspects arrested and entrusted on mobile - every day jp (Mainichi Shimbun)

According to a woman, when a man who took a picture directly at the scene shouted "I was caught", he gave out a cell phone around him and said that he was able to find a "copy".

2008/06/08 18:54 Addendum
Many photographs of the situation near the scene are uploaded.

Akihabara gesture event scene appearance - Akiba Blog

2008/06/08 19:27 Addendum
Seven men died Deceased arrested a domicile nun hero / Web east side · news 20080608153134

According to the police, the man is Aomori Prefecture, the address is Shizuoka Prefecture Susono City, suspect Komi Tomohiro who is unknown (25).