An 8 - year - old girl married to an unemployed father wins a divorce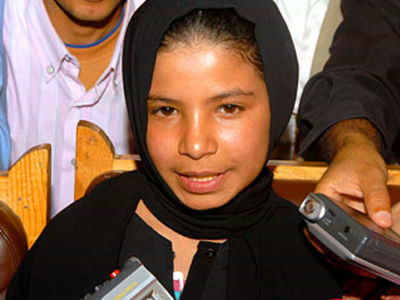 Located on the Arabian PeninsulaRepublic of YemenAn 8 - year - old girl (above image) forced to marry by his father who lost his job won the divorce.

"I am glad that I could leave my family and I can return to school," the girl said.

Details are as below.Eight-year-old wife wins divorce The Daily Telegraph

For the first time in Yemen - 8-year-old girl asks for divorce in court - front - Yemen Times

It seems that a single girl went to the court to allege that the girl was assaulted by ex-husband Faez Ali Thameur. In Yemen 's law minor girls can not prosecute, but the judge heard the circumstances issued an order to arrest the girl' s father and Mr. Thameur.

Mr. Thameur seems to have got married with the consent of the girl and the girl's parent, but denies the assault. However, I approved of the divorce allegation.

In the Republic of Yemen there used to be a law that we can not get married until 15 years old, but in 1998 my parents were revised to be engaged even under 15 years old. "Thameur has been engaged and asked to be in parents until 18 years old but after a week I agreed to engage, my parents have told me to live with him," the girl speaks It is.

The girl told her parents and aunt that she wanted divorce by being assaulted by her ex-husband, "I can not do anything for them, there is no choice but to have a lawsuit alone if there is dissatisfaction" He heard that he was told. Currently the girl is protected under her mother's uncle and does not want to see his father.

In Yemen for reasons such as poverty52% of women get married under 15 years of ageIt seems to be doing, it seems that marrying is getting serious situation.
in Note, Posted by darkhorse_log