Intel Introduces High-speed, Ultra-Low Power, Ultra-Compact Mobile CPU "Atom"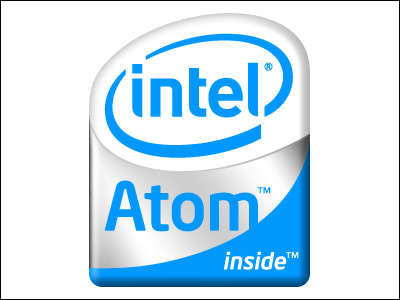 We talked about in GIGAZINE previouslyCPU for ultra-low power, high-speed mobile PC called "Silverthorne" code nameWas officially announced as the brand "Atom" of the new CPU.

It is a CPU for ultra-compact, low-cost mobile devices that can be driven at high speed with ultra-low power consumption.

Details are as below.
Intel Announces Intel Atom Brand for New Family of Low-Power Processors

According to this release, the CPU "Atom" announced by Intel this time is intended to be installed in inexpensive PCs and mobile Internet devices (MID), etc. It has 47 million transistors, Ultra small with 25 square mm.

TDP (thermal design power)Is 0.6 to 2.5 watts, which is far lower than the 35 watts of the TDP of "Intel's mainstream" Core 2 Duo "TDP, the drive at the maximum of 1.8 GHz is up to the user's demand Possible. Power consumption is also minimum.

For the platform of mobile internet devices including Atom processor and chipset etc., it is said that it will become the brand "Intel Centrino Atom".

This is the logo of Intel Centrino Atom.