Number plate "1" is bidding for the highest ever amount of 1,530 million yen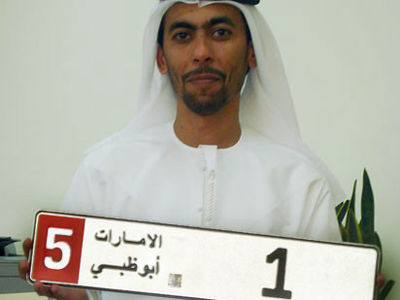 At the auction of the Emirates · Palace · hotel in Abu Dhabi in the United Arab Emirates (UAE), the number plate of "1" will be the world record 52.2 million dirham (about 14.3 million dollars, about 1.53 billion yen) I was bidding for it. The previous record was Abu Dhabi 's license plate "5", which is said to be 6.8 million dollars (about 730 million yen) at this time.

Details are as follows.
ABC News: Who's No. 1? $ 14.3 M License Plate Buyer

I bid successfully for Saeed Abdol Gharour Khour, a businessman. Behind the expensive license plate is the automobile culture if it is a rich city on the Persian Gulf, there are few options for pedestrians and public transportation agencies, so the license plate is one of fun and can be boasted That's right.

Normally, the license plate is represented by five digits, but if the number of digits is small or a characteristic number, the price will rise and "the numbers 1 to 10 are the most expensive numbers", the director of the auction says I will.

There are also people who are committed to attaching license plate 599 to Ferrari 599, and in the past five auctions, 393 license plates have been sold for a total of 56 million dollars (about 6 billion yen) is.

All of these earnings are going to be philanthropic projects, and that earnings will be used for traffic accident victims.
in Note, Posted by logc_nt