In 2009 the global share of next generation game machines may change completely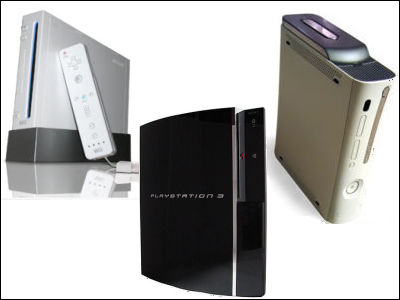 Nintendo's Wii, Microsoft's Xbox 360, and Sony's PS 3 are now fighting for triad as "next-generation game machines", but the number of units sold in the world is Wii, Xbox 360, PS 3 in turn.

However, according to the forecast published in the UK 's "Gurdian" paper, it seems that its ranking may have changed completely in 2009. What on earth will it become?

Details are as follows.
Sony to launch TV push for PlayStation 3 | Media | Guardian Unlimited

According to this article, the worldwide sales volume of next generation game machines is 11.5 million Wii, 10.9 million Xbox 360, 4.6 million PS 3.

But from now on, Sony will actively promote PS3 as an entertainment computer, not only as a game console, but also at the same time focusing on game software development including the famous karaoke software "Singstar" The sales volume of Wii will be 52.1 million, PS3 will be 42.3 million, Xbox 360 will be 30.4 million.

PS3 seems to be a bottleneck of popularization as little game software is used, but since 2008 and after 2008FINAL FANTASY XIIIWill it be possible to rework in the future by launching powerful PS 3 software, including "What is it?"