Launch service for free delivery of videos in limited areas where animation is not broadcast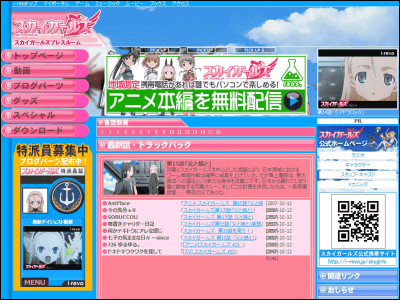 There are times when the number of animation seen is extremely small in an area far from the metropolitan area of ​​Tokyo, Nagoya, Osaka, but it may be able to fill the gap.

Internet Revolution Inc., a portal site "I-revo"We will start the experiment of" area cast "technology which delivers moving images by area using the location identification function of mobile phone today from October 12th today. The work to be delivered is "Sky GirlsBy the 18th of October, I will distribute from the 1st talk to the 15th talk all together.

Details are as follows.
I-revo Sky Girls Lab

In the procedure for viewing, first, the delivery page of each story on the lower side of the above-mentioned linked page is displayed on the personal computer, and the two-dimensional code (QR code) displayed on the screen is read by the mobile phone. Then, "Send location information" is displayed on the mobile phone, so follow the instructions on the screen. If it is confirmed that the position is within the experiment area, it seems that it will be able to be watched on the PC's video player.



Specifically, it seems that such processing is taking place.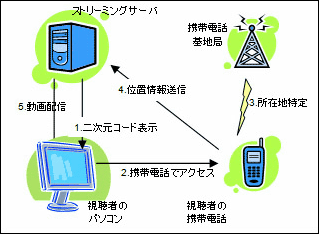 Experimental areas are Hokkaido, Aomori, Akita, Iwate, Miyagi, Yamagata, Fukushima, Niigata, Toyama, Ishikawa, Tottori, Shimane, Okayama, Hiroshima, Yamaguchi, Kagawa, Tokushima, Ehime, Kochi, Fukuoka, Oita, Nagasaki, Saga, Miyazaki · Kumamoto · Kagoshima · 27 prefectures in Okinawa. Participation is free.

From October 12th to 18th, the first episodes "candidates" to the 15th episode "Father and daughter" are distributed all at once. After that, it seems that the latest talk is distributed every week according to the TV broadcast. The period is one week for each talk.

I also tried it in the editorial department, but because it is outside the experiment area, only the message "Position information could not be confirmed" was displayed.

Why do not you try viewing this as a result of those who were frustrated without seeing it even if you wanted to see it so far.