I tried to be exposed to you at the recital of the Mainichi Shimbun new site "Everyday jp"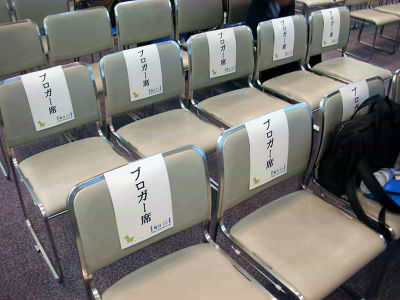 A new comprehensive information site of the Mainichi Shimbun opened on October 1Everyday jpI was invited to the presentation of the meeting, so I went there.

Speaking of Mainichi Shimbun,From 2007 on New Year's Day entitled 'Net Rider' a big criticism of 2 chanPosted articles that can not be helped even if it is said to be a biased article to do,It was also found that it was an interview with a conclusionAfter that, we emphasized the negative side of the net even after that,How the existing media captures the Internet as a threat"It was blatantly exposed to the bottom of the white day and made me feel the premonition that the era of the existing mass media lead the public opinion and enlightenment is over.

The presentation is not limited to media companies, but it seems to have been widely introduced to bloggers and journalists who are active on the Internet, but even though races other than ordinary reporters are coming weekdays during the week and day Is it? As for the Mainichi Shimbun that criticized the Internet furiously, what sort of news site are you planning to create on the net?

That's why the details that will not be reported on television and the like are as follows.
First of all, prerequisite knowledge, the Mainichi newspaper originally opened a news site from August 1995, and since April 5, 2004,"Mainichi INTERACTIVE" and "MSN News" integratedI operated "MSN Everyday Interactive".

However, Microsoft and Sankei Shimbun new site integrating "Sankei Web" and MSN"MSN Sankei News" to be established on October 1And announced. The Mainichi Shimbun that had resolved partnership with Microsoft has decided to run a news site on its own.

So this is the situation at the scene. First is the entrance. It is the Mainichi Newspaper Hall.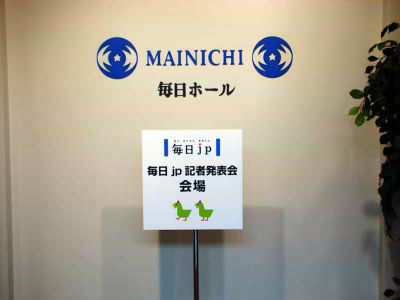 Everyone is hurriedly moving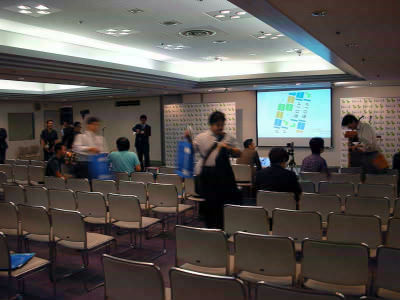 A TV camera stands by in the back. A strange figure that the press interviews the press.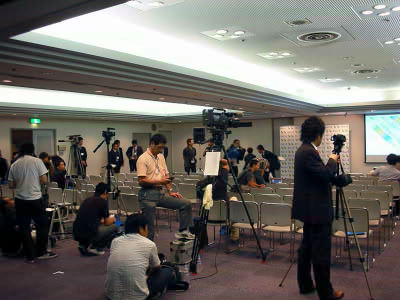 I have not come so much yet, but it is almost this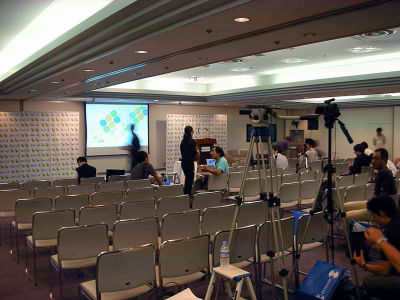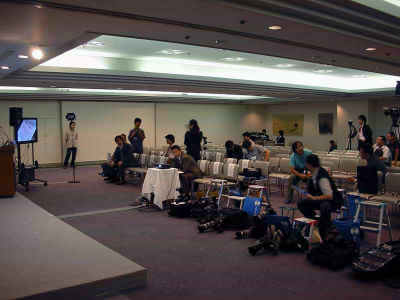 There are two types of reception: "blogger" and "media stakeholder", which one was GIGAZINE classified, it was "blogger". Apparently it seems that this time it was called as a blogger.

So it was guided here. There was a cheap seats available. Sitting here, from the people of existing media "I wonder if they are creatures of bloggers ...."I will send a curious look. I returned it as a loser. Cold weather.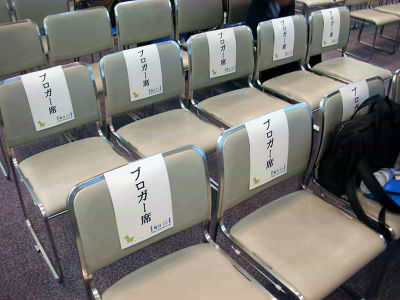 And the materials and dedicated pass passed to "blogger". By submitting this from the neck, even if you leave your seat, you will continue to lock on from reporters of each company. Anything, this is definitely a trap. I can not stand it.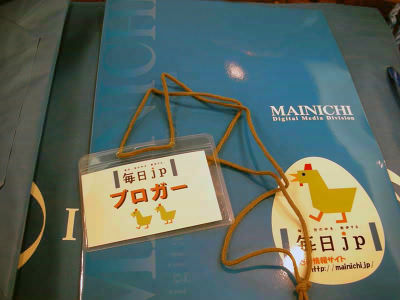 But after all I thought it was bad if only this kind of treatment was done, or "souvenir" came out when I looked at paper bags. It is not uncommon for itself as it is often the case that even at ordinary presentation sessions etc., it gives such things.



Speaking of a souvenir-giving presentation, the most surprising thing I've ever surprised was when I was the first iPod shuffle, for all those who appeared on Apple's famous Apple iPod shuffle 512 MB version on that occasion I got it for free. It's only at that time, but it's pretty impressive.

In addition, this time it is said that it will be done on this stage all this time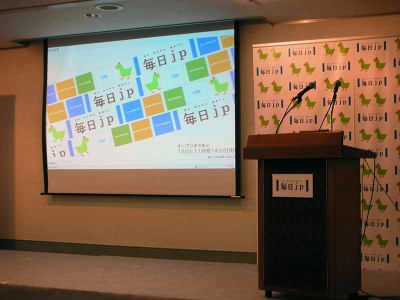 At about 12:45, I explained the arrangement of the press conference. It may be the most polite at the recital meeting that I have ever had. As expected, there is usually only the side of the news gathering, and I feel that this area is being scrupulously scrutinized. Again, the media is pretty enthusiastic as it announces it for the media, and even if he asks the facilitator, it is quite solid answer. Feeling that everything is structured.

Originally it was planned to update this article from the venue at this point, but it turned out that WILLCOM 's radio waves did not enter. Apparently it seems that radio waves are blocked. Too bad. From next time it may be wanted to hold in a place where radio waves can be properly received. Since Apple is exclusive rumors that it seems to be able to bother to communicate so that the website can be updated from the venue at the meeting place or to be able to communicate by e-mail, it is very urishy if you do the corresponding thing . Is this around the next issue? (The story if there is next time)

And just before the start, before 13. It increased considerably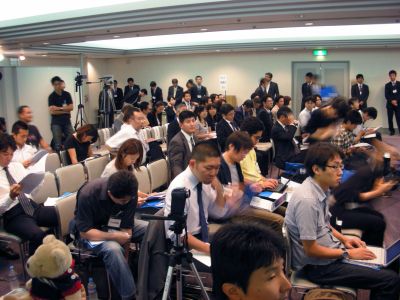 At this point it was as follows other than GIGAZINE. Is it still reckless to do in the daytime on weekdays?

Gagashima Communication - I went to a press conference of "Everyday jp".

I went to "Press everyday" press conference. -Parsley's "Something Appears to Be a Supplement"

Shirokuma daily report [ITmedia Alternative · Blog]

[Of] the original son of

Utada Akihiro's "Case book of the earth village"

2007/09/18 13:00
Start as planned. Mr. Yutaka Asahina, managing director, greeted me. It is aiming for a trusted open site, it seems that he has been doing away with the shells of the newspaper and doing it with the readers to make "open newspaper" for 30 years. It seems that he has aimed for a newspaper that is not stuck with biases while spreading the opinions of various people in the paper without being biased, developing the corporate theory. It seems to be a completely different policy from the article of New Year's Day ... ... is not the ideal reaching the end?

2007/09/18 13: 08
Next is greetings from Mr. Tetsuya Ebata, President and CEO, All About. It seems that it came as one of the cheering team. Although it is touched by blog about anyone being able to make a call, on the other hand it is likely that readers will often hear that the information is overflowing and you do not know which information to trust. It seems that it means that you do not know whether or not you can trust because all the information is overwhelmed in the all about our site and the freshness is old and there are many pieces of information that are not updated further ... ... but that around gorgeously goes through.

2007/09/18 13:13
Next, Mr. Kenji Arai, president of Digital Mainichi Shimbun Inc., explained the past circumstances. There is also an explanation that newspaper company news site has the page view as number one. However, in the present situation there is no freedom of organization or business development, and I felt dissatisfied with that point, so he decided to renew the site concept. I brought three brand images of open newspaper, controversial newspaper and useful development to the net, and decided to renew it as an open site. Since details are almost as shown in the presentation material, omitting it.

The following is the document. Since it is already troublesome, it's all posted. Because the press conference is almost like this, the reporter is based on this kind of things, and it is the main job in such a recital to summarize the speech contents not written.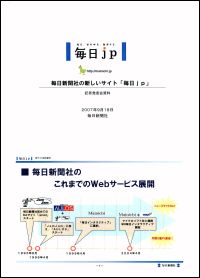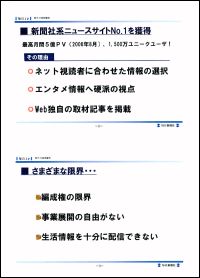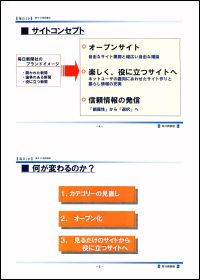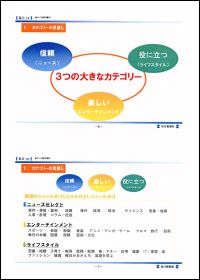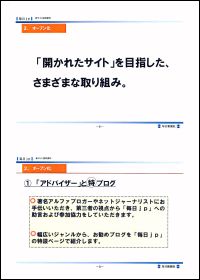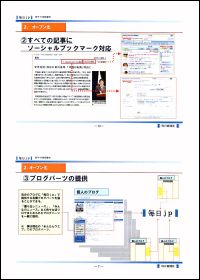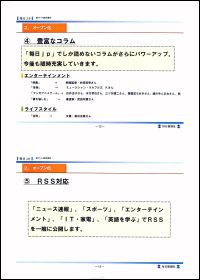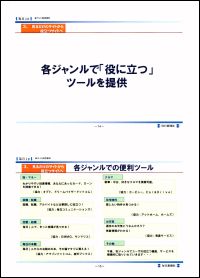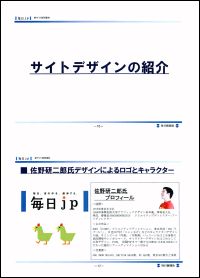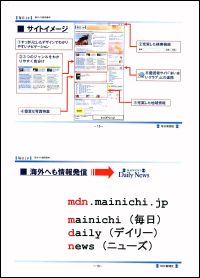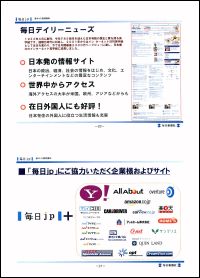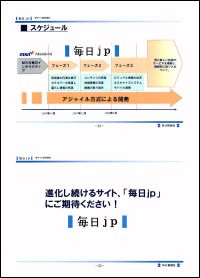 2007/09/18 13:23
Every day the editor-in-chief of Daily News appeared. Various explanations.

2007/09/18 13:25
Discovering the progress script of the press conference. After all it seems that it is preparing very carefully.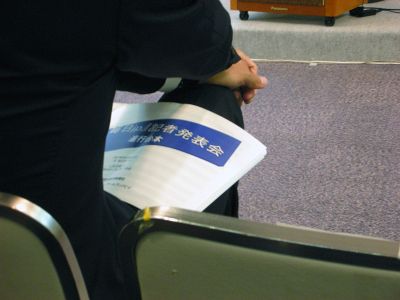 2007/09/18 13: 26
Next, Mr. Atsushi Hasegawa of Director of Digital Media, Managing Executive Officer, Mainichi Newspapers appeared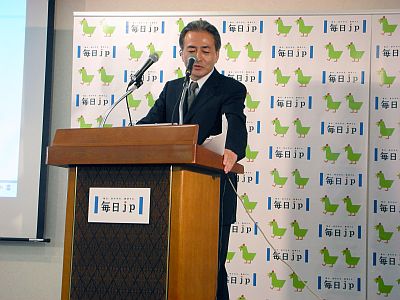 About the credibility of information, it claims that the newspaper company should do. It touched about a masochistic CM that stops sidestep of newspaper articles and was concerned at first with the partnership with MSN but felt the response when actually trying. Currently, the press of the Mainichi Shimbun has roughly 2,000 people, it takes ten years to raise for one person, but until it takes 10 years, it seems to know how to summarize and convey the facts. It also claims that it takes time and effort to make information into products. In addition, the Mainichi Shimbun already has a certain degree of success on mobile phones, and the information is presented in full text, but this is a decisive difference with other companies. Other companies said "You can not sell just by plain text, but you can not sell it," but earning 14 million monthly accesses. However, 2000 reporters were facing social and economic aspects, and they talked about enthusiasm that they wanted to do both soft and cynical, including living information other than this. Also, in August of last year, we posted corrected articles for the first time in an article on the Internet, but it seems that this should be done by all means on the aspect that newspaper companies transmit reliable information. What I was talking about was pretty decent.

2007/09/18 13:32
I started questioning and answering.

Q.From newsletter "About page view" "What are your business goals, such as advertising revenue?", "Question as the industry's first attempt?"
A.August peaks back and forth between 300 and 400 million. How far we expect the page view apart from the deployment Microsoft, the number of people entering from the entrance of Microsoft is definite, so it may be reduced to about 200 million. But after two years I am aiming to go beyond the peak and beyond three years later, and I anticipate that advertising revenue will increase along with it. I think that it will be an issue how to create reliable information.

Q.From a certain blogger it was a prominent alpha blogger to say that it is open, but whom are you planning to choose? A question with
A.Trust and openness do not conflict. It is hated to lead the constitution of the world in one direction like "one company". So I will not do that kind of thing. Also, I think that it is good if you are honest about interactivity, feel that you are late, those who can do such blogging, and who can support to create accurate information.

So before GIGAZINE questions, "Q & A session ends here" announced that Q & A session ended. what the hell. It was about 8 minutes in a while. By the way, the texts to be answered in Q & A were below.

Q.Mainichi Shimbun continues to emphasize only the negative part of the Internet endlessly from the aspect of New Year's Day, endlessly emphasizing only the negative part of the Internet, and the interviewing policy with the conclusion from each side including not only the Internet but also the existing media is a problem It has been said that there is a problem, or that such serialization of biased articles has been said to be problematic, but at this jp every day, what attitude and attitude towards criticism so far Do you show policies and establish interactivity on the net? I would like to answer including what type of readership is assumed.

As for the above question, because I was not asked for the convenience of time this time, I plan to hit when I interview the Mainichi Shimbun next time. Such expectation.

2007/09/18 13: 40
An actress Yuka Kurotani came. A picture of the press who holds the camera all at once.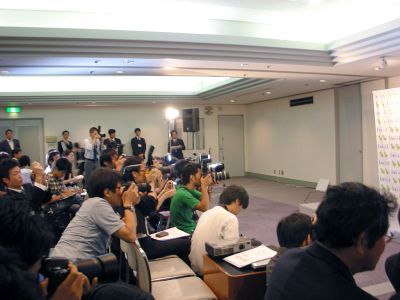 GIGAZINE editorial department which is going to stop running when the movie shoots the flash photography scene and progressive black clothes are running. Let's see.


Is it still alright to be told that by turning the camera towards the media side? Or is it simply because it becomes an obstacle to shooting, the reason for that is unknown because it was able to escape before listening. Well, well, I do not care about this kind of corner ... Well, since I write a column for a while, it is not irrelevant, but how do you pinch it during the recital? I can only believe that the media is licking the media. I think that we should take more time to answer questions than taking such time. I feel like I can see through the question and answer end with two cases and how much I fear that it will be thrust. The question and answer time is too short. On the contrary, however, it can be said that it is a measure against Tsukkomi to forcibly round up the question and answer by bringing it to the center without bringing it to the end. As expected, you should think that you are planning a scenario. There was also a script. The script itself is not unusual, but this obsession to strictly proceed without delay is worth noting ....

2007/09/18 13: 54
Preparation for photo session started. There are plenty of people.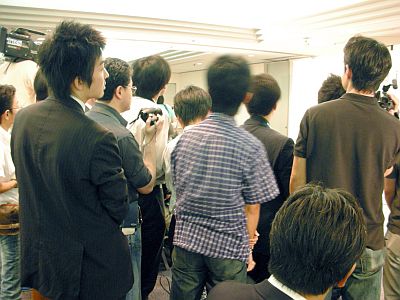 It is almost like this, this is also a common scene at a press conference, but I took it because I think that it is a familiar scene for the general public.


Since it does not matter any longer, I asked GIGAZINE for an interview for people in "every day jp" during this time. In the meantime, we will publish news gathering articles including part that we could not hear in the question and answer session.
↓
I wrote down below.

Interview with the Mainichi Shimbun Digital Media Bureau who operates "Everyday jp" - GIGAZINE

Lessons learned from similar events: Please do not need a blogger seat, please stay at least as long as an armpiece or a name tag

In addition, I will show below how to post this event in other net news.

Promote "open up" in cooperation with the news website of the Mainichi Shimbun and bloggers

Mainichi Shimbun leaves MSN and announces a new ship, outline of the new site: ITpro

Trust and openness? "Everyday jp" is separate from the MSN Open | NET | My Communication Journal

Also borrowing the power of bloggers "Everyday jp" - ITmedia News

MSN leaves the Mainichi Shimbun new site / blogger collaboration strengthened? Internet - latest news: IT-PLUS

New site "Everyday jp", Yahoo, All About collaboration: News: Net & Digital: YOMIURI ONLINE (Yomiuri Shimbun)

Mainichi Shimbun announces new website "Everyday jp" - OhmyNews: Oh My News "Every citizen is a reporter"

From Mainichi Newspaper's online version, MSN News to "Everyday .jp": RBB TODAY (Broadband Information Site) 2007/09/18