The ten most contaminated cities in the world 2007 edition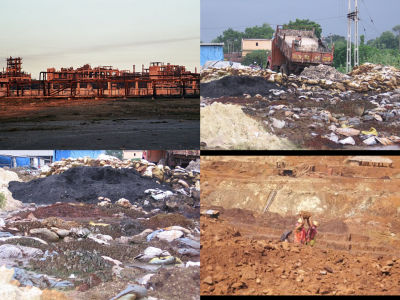 Before,Ten cities the most contaminated in the worldI have written an article that, Blacksmith Institute announced the latest version of 2007. Four newly added cities and six remaining from last time.

Details are as follows.
The Blacksmith Institute

Chernobyl (Ukraine), Zelzinsk (Russia), Kabwe (Zambia), Laloya (Peru), Linzhou (China), Norilsk (Russia) areRemaining from last time. The following four cities newly joined.

·Smogite(Azerbaijan)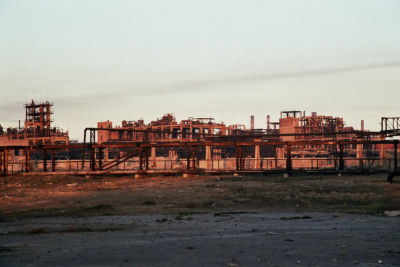 Sumgait is one of the big industrial areas of the former Soviet Union, with more than 40 factories producing industrial and agricultural chemicals. Chemicals include chlorine, aluminum, detergents, insecticides, etc. in addition to synthetic rubber, and when the factory was in operation, 70,000 tons to 120,000 tons of harmful substances were released into the atmosphere every year . In addition, unprocessed sewage and mercury continue to contaminate the soil. Industrial waste is piled up due to outdated technology and inappropriate processing, which is a problem that bothers the town. The cancer incidence rate is 22 to 51% higher than the average of Azerbaijan and the death rate is 8% higher. The baby said that there are high premature births, stillbirths and genetic defects, and the influence seems to reach 275,000 people.

·Regatta(China)
Anhui Province's Tianming City is one of the huge base that supports half of China's total lead production. However, due to low level technology and illegal work, lack of pollution control devices, acute lead poisoning etc. are seen in the surrounding area. One of the reasons is that there are many small recycling plants here. It seems that these projects were stopped due to pressure from local residents and officials as expected.

An article reporting that two cities were chosen from China for the "most contaminated city".

Global maximum contamination area China Zhoujiji: Anhui Shidaichi Wa Shanxi province Linzhi City

·Skinda(India)



In the valley of Skinda in Orissa state, 97% of chromite in India can be taken. Mines are the world best open pit and 12 mines emit 30 million tons of ore without an environmental management plan. As a result, untreated water is flowing from the mine into the river, and hexavalent chromium of 60% of drinking water to 20 times the international standard is detected.

A woman working at Skinda. Because it exposes the body to water contaminated with hexavalent chromium, symptoms such as infertility, malformations and stillbirth appear.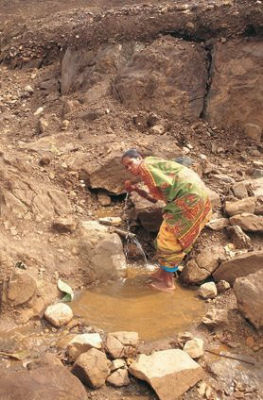 ·Vapi(India)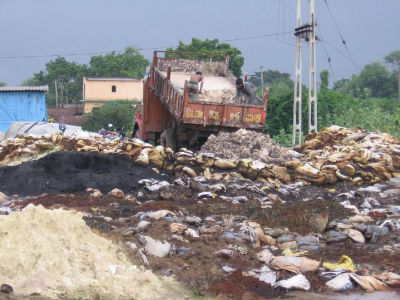 The southernmost part of the industrial area called the "Golden Zone" that spans 400 km in Gujarat Province is Vapi. There are more than 1,000 factories in 50 industrial estates, and petrochemical products, fibers, doses, leather goods, etc. are made. The waste contains heavy metals and PCBs, and the Central Pollution Control Committee in India has announced that this area is "extremely polluted".

Contaminants to be unloaded from the truck.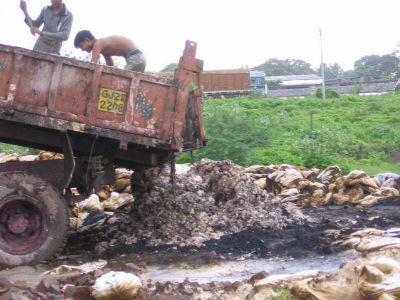 Mountain garbage.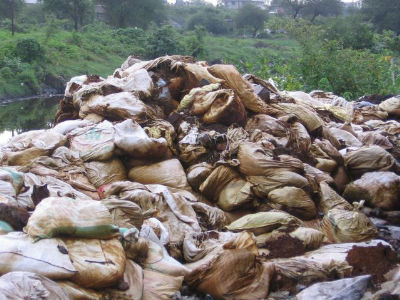 The color of the earth is poisonous and colorful.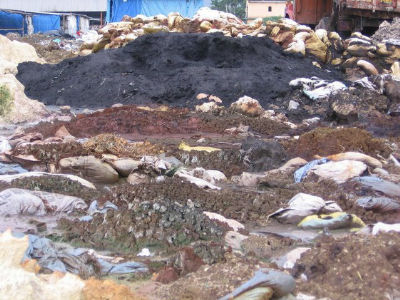 Four items of Bahos de Heina (Dominican Republic), Mile Sau (Kyrgyzstan), Ranipet (India), Rudonaya Prisistani and Darinegosk (Russia) have disappeared in the 2007 edition, but this city is said to be beautiful Not that it was just a worse city came out ... ... What is going on next year?
in Note, Posted by logc_nt