Behind the scenes of 'World Athletics', the operation is messed up and the site is confused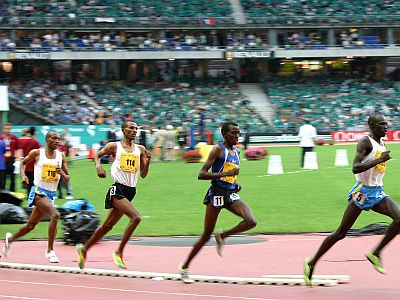 The 'World Athletics Championships ' started on August 25th, but the mess of its operation is gradually becoming clear. The turmoil of volunteers in the field is unimaginable, and it seems that IAAF ( International Athletics Federation ) has finally complained. The cause is that the volunteer shift has been messed up. When I read the bulletin board posted by the volunteer staff, it seems that there are problems such as the data in the system that manages shifts disappearing or inconsistencies.

In addition to free volunteers, the irresponsibility of the Osaka City staff and the Local Organizing Committee (LOC), who are forced to volunteer, is further accelerating the problem. Other than his own responsibility, he maintains the bureaucratic guts of 'I don't care', and seems to be playing the serious ugliness of the international competition that cooperation between each department is not possible.

As a result, five players from the Eritrea team could not stay in the room prepared by the Games Organizing Committee for some reason, and there was an emergency situation in which a blanket was laid on the floor of the lounge on the first floor. However, if you look behind the scenes below, you can see that this is not just an 'unfortunate accident' but 'it happened to happen'.

World Athletics: No room due to mis-arrangement Eritrea, overnight on the floor-Athletics: MSN Daily Interactive
http://www.mainichi-msn.co.jp/sports/field/news/20070829k0000m050178000c.html

In other words, there is no room when I go to the hotel designated by the Games Organizing Committee, even though it was within the number declared in advance. I was instructed to wait as it was, but the room was not prepared, so I had to lay a blanket on the floor of the lounge in the corner of the lobby on the first floor and sleep.

The next day, the Djibouti team in the neighboring country, which I couldn't see, provided an empty bed in my room and stayed in a shared room for 3 nights. In other words, he slept on the floor on the first day and shared a room with players from other countries on the second to fourth days. What was the Steering Committee doing during the last four days? According to the Mainichi Shimbun


▽ Story of Yasuhiro Uchiyama, Director of Public Relations Office, Tournament Organizing Committee
It is a fact that there were not enough rooms in the designated hotel due to the large number of athletes and related persons visiting Japan. However, he had another hotel. It has not been reported or confirmed that an Eritrean player slept on the floor.

According to the Djibouti team, the tournament organizing committee was ' greatly confused ', but even if it is confused, this is too much ...?

So let's take a look at the back side of the operation. Volunteers seem to be called 'Team Attaché'. It's written on the bulletin board, so it's just an example, but you can still understand various things.

World Athletics Volunteer Site
http://2007osakavola.nomaki.jp/

Looking at the bulletin board, there are quite a few posts from volunteers, and it feels like the confusion at this hotel was about to happen. The following entry seems to be what the Mainichi Shimbun reported.

No.333 ( mirror )

The biggest hotel was confused as it arrived one after another even though there were no rooms. It was a rough city for 4 hours. I knew this would happen from yesterday, but the chain of command wasn't quite there, and the check-in center (which was set up by LOC, not the hotel) was dysfunctional.
The poor ones are the players. People who went to tomorrow's marathon wanted to get enough sleep, but they couldn't do it and slept on the floor, or brought a blanket to the lounge and slept without hearing the hotel man hold it down.
Due to overbooking, the accommodation hotels for athletes and related parties have changed significantly from the original schedule. It's also rough that each country is a separate hotel. Therefore, it is expected that the country in charge of the attaché will change and the hotel to which we will be assigned will change from tomorrow, but not only we volunteers, but also the people in the field (the people at the hotel, the people dispatched from the city). (And the outsourced people) are very confused, surpassing the physical and mental limits. The bad thing is LOC. Please cooperate with us and be prepared to survive. Really, the people in the field are no longer in a bad situation. Thank you> _ <.

So why did this happen? There are two causes. One is the irresponsibility of volunteers by city officials (that is, unlike the free volunteers who came from all over Japan) and the Games Organizing Committee (LOC), and the other is that the shift system is broken or something. That you are in trouble.

First, let's take a look at the volunteers and the Games Organizing Committee (LOC) by the first city officials. All of them have the role of supervising many volunteers. No matter how many excellent volunteers there are, if there is no one to supervise them, they are the people of Ugo, so it is a very important role. The color of the uniforms of these supervisors is different from that of ordinary volunteers, and they are 'black shirts', so it seems to be the so-called 'responsible person'. However, the irresponsibility seems to be overkill.

No.293

About half of the information in the Nagai area seems to be volunteers from Osaka City staff.
I felt like I was rushed out and was told, 'I don't understand.'
These people seem to be provided with only shirts (of course, one).
The shoes are also made by Mizuno (buy if you don't have one) or completely plain (like leather shoes).
I was told. These people are also hard.
We will work together with our volunteers who are applying for volunteers, so
There may be some difficult parts, but I would like to cooperate and have fun.
The volunteer secretariat is an employee of Osaka City,
It seems that it is composed of teachers from Osaka City.
There are many people who can't work. .. ..
Many people don't understand Japanese.
Regarding the absence of PC support for this hotel cafeteria, I also inquired about the hotel patrol (?) Black shirt, but 'If you do not detect or have something to say, write it down in the food question response table.' I did that, but I don't know what happened after that. I made an inquiry by phone, but 'I don't know because I'm not in charge.' When I asked, 'Where should I contact you?', He answered, 'Now, I don't know.'
The people in black uniforms, the so-called 'responsible persons' of Bora, were also quite irresponsible and surprised.
After all, a player who misses the shuttle bus to the hotel and gets angry. I was convinced that the bus would depart on time, but when I said that the next bus would be 30 minutes later, I was sharp again. She seems to have participated in such competitions many times, but she said that everything in Osaka is the worst. Even if volunteers tell me that! I mean, I'm a little sad! But I just wanted to ask what else 'everything' is ...
Why can't we assemble until just before the shift?
Any small store will be ready for a shift.
Even though such a large number of people move, allocate people appropriately in just a few minutes
That feeling is wonderful. really.
The shift of the mullet clerk is messed up!
After all, we are reassembling from 1 at the site
I think there are many people who were told to move the hotel yesterday at a huge hotel.
I am one of them

So I went to a new hotel from today
So, the content of the shift is a little strange, so I called Volunteer Center.
I didn't hear the name, but a familiar old man's voice
'Well, Mr. ○○ is a huge hotel, isn't it?'
'? Yesterday, I was told about the change at the hotel ...'

When I talk to him, if you ask the old man
Feeling like 'I don't know about such an announcement'

'At the XX hotel, a man in a black uniform (I forgot something)
I announced a hotel change for many volunteers ... '
However, there is only one point, 'Because this is a huge hotel.'

After all, with the person who manages the shift at the volunteer center
The changes made in the hotel remain disjointed
They are neglecting each other as 'I don't know.'

I don't know if it's their own
I was surprised at how sloppy it was!
And the horror of calling it dignified
It may be an overstatement, but under these people,
It 's impossible to act in a normal way.


Of course, because of this recognition, the essence of the problem is as follows, even when I had to sleep on the floor of the hotel.

No.522

The online Mainichi Shimbun said, 'There is no room due to an arrangement error.' I don't think there was an arrangement mistake, and I think it wasn't a system in the first place, but I wonder if such a sweet expression 'arrangement mistake' is okay.

On the net, '... it's true that there aren't enough rooms in the designated hotel, but I've prepared another hotel .... I haven't received any reports that the athlete slept on the floor, and I haven't confirmed it. '.' Was mentioned by the director of the Public Relations Office of the Organization Committee.

The problem is 'I haven't received a report' or 'I haven't recognized it'! !! Organizing committee members.

Did you have another hotel?
Isn't it true that 'I prepared another hotel in a hurry' instead of 'I prepared'? It looked like that when I was looking at the edge. Otherwise, many wouldn't have been able to do it again for hours.

There is an expression that 'it was not a system in the first place ', but as I read the bulletin board, it seems that this is not just an exaggeration, but literally ' it was not a system '. In other words, it's the second point of the problem. Apparently the shift data had disappeared or was inconsistent.

No.265 ( mirror )

I was surprised to receive a new 'shift table' and 'AD card and uniform receipt slip' by express delivery.

This time it is the 'Security Stadium Area Guard' on the 24th and 27th.

I immediately called tel 0570-07-2007 to find out what was going on.

Then, the reply is 'The system has gone wrong and I don't understand ...'. I'm told, 'I'll look it up and call you back later.'
'I know that if I do that, I'll never get a call back.
It's written on the board of the volunteer site as well! So don't hang up this phone and reply now! !! I shouted unintentionally.

Then, he said, 'Umm ...' and said, 'We don't know why it happened because of a system failure ...'.
Looking here, I applied, but I can't participate because the data is gone
There seems to be some people, and there are no words.
What is this operation?
I really can't believe it.

I'm not sure if the data is really gone, but it's true that the shift relationship is anomalous, and all problems stem from this shift relationship. At first glance, the situation is as follows, and it seems that not only the shift but also the consistency of the uniform data assigned to each volunteer is incorrect. It's a big mess.

No.468

I was also in charge of food, but I received a phone call about the disappearance of the third activity and the change schedule for the fourth activity, leaving two days of activity.
I still don't know what the 4th activity is.
As far as I read the bulletin board, it seems that there are many changes (only A or C remains, the range of AD relationship change work is narrow) for me who entered with B shift, and I am honestly tired of it.
From the end of February until now, the response of the headquarters has been confusing, but it is already the limit.
I don't know about the change work or the schedule yet, so I will try to deal with it as soon as I get in touch.
I think the uniform is a memorial to the volunteers, and even though I have declared the size, it seems that many people are receiving different sizes, so why prepare? I wonder if you didn't get it.
First of all, even before the start of the mullet (it may be a daily occurrence on this bulletin board), I applied for a shift change, but there was no contact at all, or when I contacted to receive the uni, it was out of stock, so I said that it would not come back in stock. It was an anxiety explosion. I managed to confirm the shift, but Uni's contact was promised to come by the first day of the activity, but it did not come the day before ... Fortunately, Bora was late on the first day, so when I got up early and went to pick up the uni, the sizes were not the same on both the top and bottom. When I inquired, it was said that it would be restocked on the 25th ... In the end, I ended up using the extra large size, and I'm the S size, the O size ... To be clear, it's a T-shirt ghost. It's difficult to work in such a clunky state where you're about to take off your pants and fall off, right ?? Of course, I understand that wearing a tournament uni is meaningful in many ways, but I'm prepared. You can't do anything if you're forced to wear something you can't wear. Therefore, I asked the person who is collecting the mullets at the station in charge to at least allow a plain beige T substitute. (The trousers were adjusted by folding the waist three times through the belt ...) However, it is essential to wear the tournament uni, so if you can't wear something of that size, you don't have to mullet, and you're told to go home. Eh !? I was stunned. After that, I contacted Volunteer Center and called if there was a small size, but as in the morning, there was no stock at all, and if the correspondence was the same and I could not wear it, I would like you to refrain from participating.
Earlier, I contacted the Bora Center that the shift was different from the desired date.
I told him I wanted more shifts, but it didn't.
Considering what I've done so far, I wonder if it's impossible to realize what I just said ...
I sent an email to the Organizing Committee asking me to do something about Bora, but it hasn't changed.
We recommend that you do not expect to contact the Bora Center.
How about consulting on-site?
It will be turned by the current staff.
I went on the first day, but it was the worst word.
I was looking forward to this volunteer work, studying technical terms and preparing in advance, but all of them were water bubbles.
I went to the place in charge according to the shift table and checked the country in charge in the list, but my name is not in the list!
There were some similar people, and even if the name was finally on the list, some people were told to move because it was actually a different place due to a mistake by the Organizing Committee. The Organizing Committee itself says 'it's already messed up', but even if volunteers say this, it's like who should we rely on if something goes wrong.
I'm saying 'I don't have enough manpower', but I really thought that I couldn't use people well.
After all, I helped the attaché in a certain country, but I did nothing and did practical things in 8 hours for about 5 minutes. It was a vacant day when I didn't meet any players, didn't use any language, and thought I wasn't needed or ridiculed.
I volunteered for Infome on August 25th.
Someone wrote it,
① There is a name in the assignment list, but there is no name in the detailed list for each department
② The time on the shift table sent by mail is different from the actual shift time.
I am disappointed with the operational issues.

Problems such as shifts can be said to LOC people,
Business transfer between shifts is sloppy,
I felt like I was doing it as I like.

Information is complicated even though it is infome
Without detailed information on the many entrance gates for stakeholders
I couldn't give you the correct guidance
I am very skeptical about the operation of this tournament itself.
When I went to the hotel I decided on yesterday, I didn't have a name. Even if I went to the designated hotel, I had to wait for a long time, and after all, the attaché in that country was overcrowded, and when I talked to the people who had already entered, there was no need to increase the number of people any more. I felt like I was in trouble. The first hotel I was assigned to was like a battlefield, and I heard that one person has many countries, and some countries don't have attachés yet, so if there are surplus people here in the liaison, go back there. When I asked if I could, I was just told that I couldn't afford to deal with other hotels. Volunteers help each other in the first place. It's a strange story to pretend that you don't know it just because you're busy or because you're around. The other person who was sent to the hotel with me was also terrified. This is the first time for a volunteer to feel so sick. Everyone is busy, and I want to help the players who can take the time, so I consult with them, but they are dismissed as 'I don't have time to hear the complaints', so what is this volunteer? ??

However, if you look at the bulletin board while saying something, you can see how desperately the volunteers are doing their best to support the operation at the last minute. Despite that, there are complaints from the IAAF.

No.463

It seems that the IAAF has made a complaint.
If the quality of volunteers is too bad ...
Not only volunteers but also students in the stadium are the worst. ..
I think this is the worst situation for anyone who participates in the World Championships in Athletics. ..

Everything seems to have gone bankrupt. Is it okay for the remaining few days ... I'm worried.


in Column, Posted by darkhorse