True behind the scenes of "World Athletics", the operation is so messed up that the site is a big mess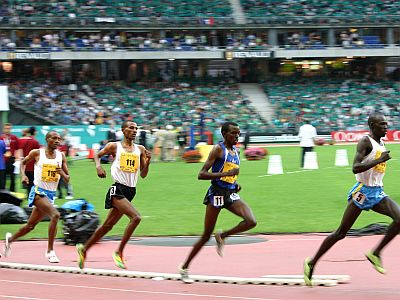 Starting on August 25th "World Athletics ChampionshipHowever, the irritation of its operation is gradually becoming evident. The disorder state of volunteers in the field is unimaginable, and finally IAAF (International Athletics Federation) It seems that complaints are coming from. The cause is that the shift of volunteers has become messed up. When I read the volunteer staff's bulletin board writing, it seems that problems such as data on the shift management system has disappeared, or inconsistency has occurred.

Besides free volunteers spurring further problems, irresponsibility such as the Osaka City staff and the Local Organizing Committee (LOC), which are forced to volunteer, are irresponsible. It seems that he plays an absurdity in an international convention that each department is unable to collaborate, since he is in charge of the officer's guts "I am not involved" other than his own responsibility.

As a result, five players, such as Eritrean athletes, could not stay in the room prepared by the Organizing Committee for some reason,I lay a blanket on the floor of the first floor lounge and go to bed.There is also an emergency that happens. However, this is not merely an "unfortunate accident" but can be understood if you see the following behind the scenes that "I happened to happen".

Details are as below.
World Athletics: Erritarian with no mistakes in arrangements, overnight on the floor - Athletics: MSN Everyday Interactive

In other words, there are no rooms when going to the hotel designated by the Organizing Committee despite being within the number of persons declared in advance. While waiting for instructions to wait, the room was not prepared, so it was no use so we layed a blanket on the floor of the lounge in the corner of the lobby on the 1st floor and it was supposed to go to bed.

The next day, it seems that the neighboring Djibouti team who did not provide a vacant bed in his room and stayed in the same room for 3 nights. In other words, I slept on the floor on the first day, and from the 2nd to the 4th on the same day it was a shared room with other players. What on earth did the Steering Committee do for the past four days ...? According to the Mainichi Shimbun,


▽ Talk of Yaohiro Uchiyama's publicity department manager of the organizing committee
It is true that players and stakeholders overall visited Japan as a whole and it was not enough room for the designated hotel. However, we prepared another hotel. I have not received any reports from Eritrea athlete on the floor and have not confirmed.
According to the Djibouti athlete, the organizing committee of the competition "It was confusingAlthough it is said that, although confused, this is too much ... ....?

So let's see the back side of the operation. The volunteers seem to be named "Team Attache". It is only an example to the last because it is written on the bulletin board, but I still understand a lot of things.

World Land Volunteer Site
http://2007osakavola.nomaki.jp/

When I look at the bulletin board, volunteers write quite a lot and it says that the confusion in this hotel feels like happening. The following writing is supposed to be the content reported by the Mainichi Shimbun.

No.333(mirror)

The biggest hotel has gone, but it got confused after arriving next. It took 4 hours. Although I knew that it would be like this from yesterday, there was no command line, the check in center (the one installed by the LOC rather than the hotel) got into a malfunction.
Poor people are players. Those who go to the marathon of tomorrow want to sleep adequately, they could not sleep, slept on the floor, brought a blanket to the lounge and slept without listening to the hotel man's suppression.
オーバーブッキングのため、選手・関係者の宿泊ホテルは、当初の予定から大幅に変更されています。一国が別々のホテルということもざらです。ですので、明日からも我々アタッシェの担当国が変わったり、配属ホテルが変わったりすることが、予想されますが、我々ボランティアだけでなく、現場の人(ホテルの人も、市からの派遣の人も、外注の人も)すごく混乱していて、心身ともに限界の状況で凌いでいます。悪いのはLOC です。どうか、皆さん、みんなで力をあわせて、乗り切る覚悟でご協力、お願いします。本当に現場の人間は、もう誰が悪いという状況ではないのです。どうぞ宜しくお願いします>_<。
So why did this happen? There are two causes. One is the irresponsibility of volunteers by municipal officials (that is, it is different from those who volunteered from within Japan) and the Organizing Committee (LOC) irresponsibility, and the other is that the shift system is broken or something It means that trouble has occurred.

Let's start with the first city employee volunteers and the state of the organizing committee (LOC). I am responsible for overseeing many volunteers. No matter how many excellent volunteers there are, if there is no one to oversee, it is a very important role because it is a crowd of people. The director responsible for this uniform seems to be the so-called "responsible person" because the color of the uniform is different from general volunteers, "black shirt". But its irresponsibility seems to be over.

No.293

About half of the information in the Nagai area seems to be an Osaka City employee volunteer.
I was being touched in a hurry and was told "I do not know well".
These people seem to be paying only shirt (of course, one sheet).
Shoes made by Mizuno (if you buy it if you do not) or completely plain (like leather shoes) things
It was said. These people are serious too.
Since we work with volunteers volunteered with our volunteer volunteers,
Although there seems to be a difficult part, I would like to cooperate and have fun doing my best.
The volunteer secretariat is an official of Osaka City,
It is said that it is composed of faculty of Osaka city
People who can not do it also gather. . .
Many people do not understand Japanese.
Regarding the case of absence of PC support installed at the hotel cafeteria, I also inquired about the hotel patrol (?) Black shirt, but, "If you do not sense · If there is something you want to say, write it out in the hood's question correspondence chart" I told you, but I do not know what is going on after that. I also inquired by telephone, "I am not in charge and I do not know." "Well, where would you like to contact?" Even if you asked me, "I do not know now" was a reply.
People of black uniforms who are said to be "responsible people" of so-called Bora were quite irresponsible and surprised.
At the end of the funeral, the player who missed the shuttle bus for the hotel and was going backwards. I told you that the bus will depart on time, I was satisfied with that point, but I took it again when I said that the next bus was 30 minutes later. It seems that she has attended such competitions many times, but Osaka said that everything was the worst. Even if volunteers say such a thing! I'm a bit sad! But I wanted to hear something else about "everything" ....
Why can not you combine it unless you shift just before?
Any small shops will make up beforehand in advance.
Although so many adults move, allocate people appropriately in just a few minutes
That sense is wonderful. really.
Shift of Bora clerk is a mess!
We are rebuilding from 1 in the end after all at the work site
Yesterday, I think that there are many people who told the hotel to move in a certain huge hotel
I am one of them.

So I went to a new hotel from today
So, the content of the shift is a bit strange, so I tried calling Borasen
I did not listen to the name, but I heard a familiar voice
"Well, Mr. ○ ○ is a huge hotel, is not it?"
"I heard the change yesterday at the hotel ..."

Trying to talk to him,
"Such announcement, feeling like I do not know"

"At the hotel ○, a man wearing a black uniform (something I forgot)
I announced many hotel changes of volunteers ... "
Although saying "Because it is a huge hotel" here

After all, people who manage shifts at the volunteer center
Contents changed in the hotel remain separated
They are keeping themselves "told out," to each other

I do not know what ours is,
I was surprised at how irresistible it was!
And it is terrifying that it is dignified
Perhaps it's too telling, under the people like this,
It is impossible to act in an ordinary sense

Of course, because of this kind of recognition, the essence of the problem is also the following in regard to the matter that we decided to sleep on the floor of the hotel.

No. 522

The net Mainichi Shimbun "There is no room with a mistake in arrangement" was listed. I think that it was not a mistake to arrange it, but I thought that it was not originally a system in the first place, I wonder if it can be expressed as such a sweet "arrangement mistake".

On the net "... It is a fact that hotel rooms in the designated room are missing, but it was preparing another hotel ... · We did not receive reports that the players slept on the floor, and we have not confirmed There was a story of the organization committee public relations department manager 's story with.

It is a problem that "I have not received a report" or "I do not recognize it"! It is! Everyone at the organizing committee.

Have you prepared another hotel?
Is not it true that "I prepared another hotel in a hurry" instead of "preparing"? I saw it when I was looking at the edge. Otherwise, we would not have spent many hours for hours.
"Originally it was not a systemAlthough there is an expression "There is an expression that it is not mere exaggeration expression as it reads the bulletin board, literally"It was not a system"It seems. That is the second point of the problem. Apparently it seems that the shift data was missing or inconsistent.

No. 265(mirror)

Now, with express delivery, a new "shift table" and "AD card and uniform receipt form" arrived, I was surprised.

This time it is "security stadium neighborhood guard" on 24th and 27th.

I made a phone call to tel 0570-07-2007 immediately as to what it is going on.

Then, "The system is going wrong, I do not know the reason ..." is an answer. "Please investigate and call back later"
"Once I do that, I know that absolutely no phone call will come over.
There is no such thing written on the board of the volunteer site! So, please do not disconnect this phone, please reply right away! It is! I shook at him unexpectedly.

Then, saying "Ooooo ...." and saying "I do not know how we got this because of system failure" ....
If I look at this place, I have applied but I lost data and I can not join
There seems to be some, there is no word.
What is it, this administration.
I really can not believe it.
It can not be confirmed whether the data is really gone, but it is a fact that the shift relationship is abnormal, but every problem arises from this shift relation. Roughly looking just like the following situation, it seems that not only the shift, but also the consistency of the uniforms data assigned to each volunteer is becoming strange. Just a big mess.

No.468

I was also in charge of the food, but I left the activity day 2 minutes, I got the change of the third activity disappearance and the fourth activity on the phone by telephone.
It is still in a state where I do not know anything about the activities of the 4th time.
As far as reading the Bulletin Board, I am tired of being honest to himself who was entering with B shift as there are many changes (A or C remains, the width of relationship change work of AD is narrow).
From the end of February I have been confused to the headquarters's response until now, but it is already the limit.
I do not yet understand about the change work and the schedule so I think that I will respond to the extent possible as soon as contact is made.
I think that the uniform is a memorial to participate in the volunteer, and even though we declare the size, it seems that many people receive different sizes, so why prepare I doubt whether it could not be.
First of all, even before the bora start (even though it is everyday rice in this bulletin board, though it is), I have applied for a shift change but there is no contact either, or saying that it will not come back to stock as there is no stock if you contact Uni receipt It was an anxious explosion with me. I confirmed the shift somewhat, but the communication of Uni was promised to come by the first day of the activity, but it will not come even the day before. The first day Bora was late fortunately so when getting up early and going to pick up Uni, the size did not align at all on the top and bottom. I was told that we will re-arrive on 25th when we make inquiries .... Eventually I will use the extra large size, S size I am O size ... clearly to say T - shirt ghost. It is difficult to work in such a state that it is unclear to withdraw pants and it is difficult, of course ?? Of course I also understand that wearing the Uni of the convention is meaningful from various points, but also preparing It is impossible to do anything if it is impossible to press on what can not be worn. So I consulted with those who gathered Boras at the station I wanted to approve substitute clothes of a plain beige T at the very least. (The trousers adjusted the waist three times through the belt ...) However, wearing a convention tournament is essential, so if you can not wear that size thing, you do not have to borrow, you are said to leave. I was stunned by? After that I contacted Borasen and asked if there was a small size, but there was no stock as in the morning, and there was no correspondence there, but if it was not possible to wear it the same, I was willing to withhold participation.
Previously, I contacted the Boracenter that the shift was different from what I wanted.
I told you to increase the shift, but it did not increase after all.
Considering what we have done so far, it is impossible for immediate realization what I said now ...
I sent an e-mail to the organizing committee that I should manage Bora, but it has not changed.
We recommend that you contact the Bora Center without expectation.
How about being consulted on site?
I will turn it with my current staff.
Although I went to the first day, it was really one of the worst.
Even though I was looking forward to this volunteer work and studying technical terms beforehand, I was preparing in advance.
Shift I went to the responsible place to the office and confirmed my country in the list, but my name is not on the list!
Even if there were several similar people, even if the name was eventually on the list, some people were told to move because they were actually another place due to the mistake of the organizing committee. The organizing committee himself said "I'm already messed up", but even if volunteers told me such things, we feel like we can rely on anything if there is something.
I'm saying "I am short of handsets", but I merely thought that I could not use people well.
Eventually I helped the attache of a certain country, but I did not do anything and I did practical things out of 8 hours in around 5 minutes. It was a fun day I was told not to meet with athletes at all, not to use languages, to be foolish of being unnecessary or not.
I volunteered in Info on 25th August.
I was writing about how,
① There is a name in the assignment list, but there is no name in the detailed list of departments.
② The time of the shift table received by mailing is different from the actual shift time
I am disappointed with the problem of management, such as etc.

Problems such as shift can not be helped to say to people in LOC
Shift handover between shifts is bad,
I felt like I was doing whatever I wanted.

Information is complicated though it is info
There is not much information on entrance gate with lots of stakeholders for stakeholders
You can not get the correct guidance
I am quite doubt about the management of this competition itself.
When I went to the hotel decided yesterday, I had no name. Even if I went to the designated hotel, I was kept waiting for a long time, at the end of the fairness the attache of the country had a lot of people, and when I listened to the person who was already there, I did not have much more, It seemed like I was in trouble. It was like the battlefield in the hotel that was allocated for the first time, I heard that there are some countries with one person alone, there are still countries where the attache is not yet, so if the liaison has more people here, return there Even if she asked me whether I could afford to stay with other hotels, I was just being rephrased. In the first place volunteers are helping each other. It is a funny story that it is just because I am busy or because my place is turning around, so I do not know it. The other person who was sent to the hotel together was also badly being told. I am the first volunteer to feel bad. While everyone is busy, I want to be useful for players who can spare time, I'm counseling, but I was dismissed as "I do not have time to listen to complaints" and where are these volunteers? Is it?
However, if you are looking at the bulletin board while saying somewhat, you can understand how the volunteers are desperately trying hard and doing their best to support the operation. Despite this, IAAF has complaints.

No.463

It seems that complaints came from IAAF.
Volunteer quality is too bad ....
Not only volunteers but also university students in the stadium are the lowest. .
I think that it is the worst situation as a person participating in the world athletics. .
Everything seems to have already failed. Is it okay for the remaining few days ...? I am worried.
in Column, Posted by darkhorse