"Evangelion New Theatrical Version: Introduction" Trailer Movie and New Theme Song Listen Version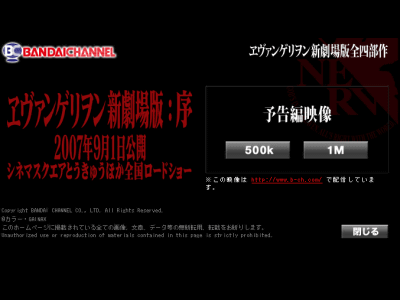 It will be released nationwide from September 1, 2007 "Evangelion New Theatrical Version: Preface"Trailer movie has been released. It can be confirmed that it is finished with the quality which is better than expected.

Also, although a new theme song shooked on the net is said to be handled by Utada Hikaru, the official site of Hikaru Utada "HIKKI'S WEB SITENew theme song "Beautiful World"You can pre-listen to. From Monday, July 23, it is O.A start at nationwide RADIO / USEN.

Playback is from the following.
First off from the trailer.

Evangelion New Theatrical Version Free Tuner Corner
http://freemv.b-ch.com/view/eva/tr_01.html

Next is watching a new thematic song, it is on the following page.

Hikki's WEB SITE
http://www.emimusic.jp/hikki/news/news_j.php

Although the trailer is a perfect completion which can be expected quite a bit, the songs still do not know the imagination if the image does not come ... I do not have anything to say if the degree of synchronization with the video is high, so expect it I will.