A movie that makes a goal by shooting a basketball from a car or a bicycle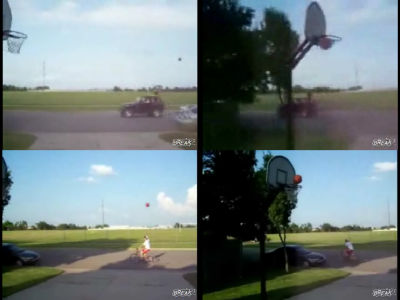 It is a pretty cool movie that throws the ball from the car or bicycle while driving, and puts it in the goal stunningly. When you succeed you are raising the cock a little.

The playback of the movie is from the following.
Shoot from the jeep while driving. I'm screaming with success as to whether I had failed so much as to succeed.
Coolest Basketball Shot Ever Video

This is from a bicycle. It looks as if it is lightly done like a newspaper delivery is very cool.
Basketball Shot From Bike Video

As the place is the same, probably the same people are doing. How long he practiced this?