Moss burger, "Nan · Tacos Mexican Moresourse" 3 kinds released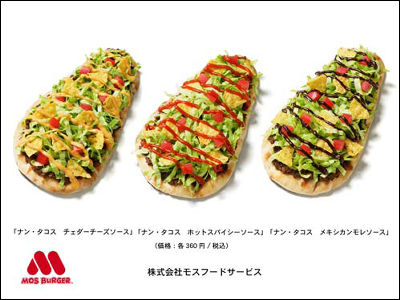 Mos Burger seems to release the summer standard product "Nan Tacos" from Friday, June 22. In addition to the popular "Nan · Tacos Cheddar Cheese Sauce", newly added "Nan · Tacos Mexican Moresource" and "Nan · Tacos Hot Spicy Source" are added, and the price is 360 yen including tax. Yogurt flavored drink "Lassie" compatible with Nan is also released.

Details are as follows.
(PDF file) Three types of sauces are available in the summer's standard staple product "Nan Tacos"
"Nan · tacos Mexican Moreres" new release! It is!
The taste of authentic Mexican! Fresh taste using chocolate-flavored "Moresourse"

According to the release, the Nan series has been popular as a standard product in the summer since its release in 1996, and this "Nan Tacos" appeared in Heisei 14. Three kinds will be on sale this year.

◆ Nan · Tacos Mexican Morusource
Topping with chocolate flavored fruity sauce to the base Nan · tacos. The sauce is a new product which added chutney to things mixed with spices such as chocolate and red pepper and made it a sauce reminiscent of southern country.

◆ Nan · tacos hot spicy sauce
Toppings with spicy tomato sauce with Habanero and Jalapeno in Nan · tacos, lemon juice as a hidden taste, new product with a spicy and refreshing flavor.

◆ Nan · tacos cheddar cheese sauce
Topped with cheddar cheese, popular Nan · tacos every year.

Hot spicy sauce seems to go well with tacos, but the Mexican Moreose is fruity and sweet sauce, which makes me considerably concerned. Is it becoming a dessert-like taste?