NHK's Junior High School Diary "Rot Girls" is the Theme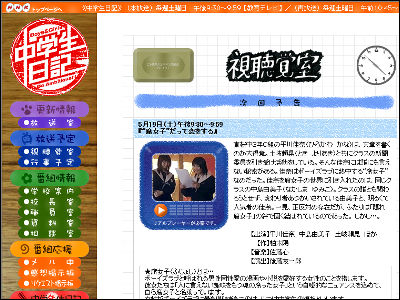 In the TV drama 'Junior High School Diary' set on a junior high school broadcasted in NHK Education, the content scheduled to be broadcasted from 9: 30-9: 59 pm on Saturday, May 19th is "Rot girlsIt is said to be the theme of the theme. The subtitle is "I'm in love with girls".

I covered it with GIGAZINE beforeThe University of Tsukuba will give special lectures on "Moe", "Rot Girls", "Haruhi Suzumiya" etc.Although it is "rot girls" that came out also in the story saying, what exactly is it?

Details are as follows.
Junior high school student diary ■ Audiovisual room | next notice

According to this page, it seems that the girls are as follows.


It refers to women who love male homosexual cartoons and novels called boys love. They put on themselves as rot victims, with a self-striking nuance called "rotten girls with soul that can not tell people". It is said that women are most interested in boys love when they are junior high school students.

Is it a rotten girl of a soul loving male homosexual cartoon and novel ... .... By the way Boys Love takes an initial letter "BL" or "YaoiIt is said that it is written as "801". In addition, the history of male homosexual cartoon and novel boom was old since the 1970s, and TV anime "To the earth ...It is said that the original author, Keiko Takenemiya, was a pioneer at the time.

The essential contents are as follows. It is kind of ridiculous content.


Kanna Hirakawa (Hirakawa Kana) of the 3rd year group C of East cherry, is good at writing sentences. Togaki Toki (Aki Azumi) is undertaking and acting as a newspaper member of the class. There is a secret that no one can tell such a kana. Kana was a "girl" who is passionate about Boys Love. Yumiko Nakajima (Yukiko Nakashima) of the same class that introduced Kana into the girls' world. Yumiko who is not trying to get involved with anyone in the class, has been deceived, bright and popular Kana. At first glance, although it is the opposite of existence, the two were tightly bound by the bond of "hidden rot women". However….

For more information about rot girls, please see the link below.

Rot girls - Wikipedia
in Note, Posted by darkhorse_log