Compare the power consumption of Xbox 360, PS 3, and Wii in detail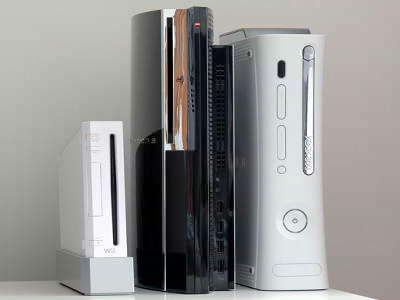 As PS3 and Wii were released in addition to the preceding Xbox 360, the next generation game machine came out at the end of last year, but it seems that we compared the power consumption of each next generation game machine.

In addition to simply comparing the power consumption when playing games, it compares DVD, HD movie playback, idling, etc. Also, as a reference the results compared with normal PC and DVD players also come out I will. It might be quite interesting.

Details are as follows.
XBOX 360 vs PS3 (and Wii) - Power Consumption Report - hardCOREware.net

It seems to be "Watts Up? PRO power meter" used for power consumption measurement this time. It is possible to save the measurement result on the PC with the USB connection and to output the text file delimited by the tab for the spreadsheet software. Incidentally, this time it is measured every 10 seconds.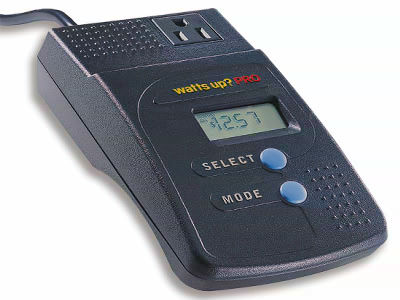 The PC which was prepared for comparison this time has the following composition. I think that it seems like a PC with quite specs.

CPU:Intel Core 2 X6800
Graphic board:Foxconn GeForce 7950 GT
Motherboard:Intel DX 975 X BX
Sound board:Creative X-Fi Fatal1ty
memory:4 GB DDR 2 6400

First of all, power consumption during game. We measure the power consumption for 30 minutes when playing with "PREY" on PC, "Legend of Zelda: Twilight Princess" on Xbox, "Gears of War" on Xbox, and "NBA Live 2K7" on PS3.

Average is average power consumption, Peak is maximum power consumption, and Minimum is minimum power consumption.



According to this table, the average consumed power is high at 198.02 W for PC, 185.1 W for Xbox 360, 193.6 W for PS 3, whereas Wii is 17.8 W, which indicates that the power consumption is low. Although graphics are different, it is unexpected.

Trends in power consumption of Xbox 360 and PS 3.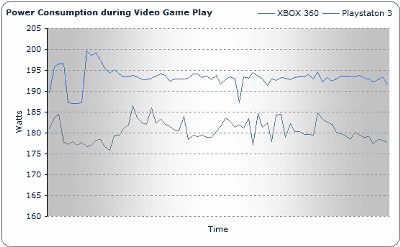 I added Wii to Xbox 360 and PS 3. It is evident.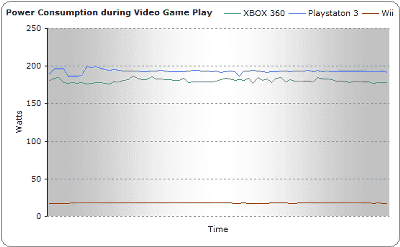 Comparison of power consumption during DVD playback. Instead of Wii without DVD playback function, it is compared with the DVD player "Oppo DV - 981 HD" as a comparison target.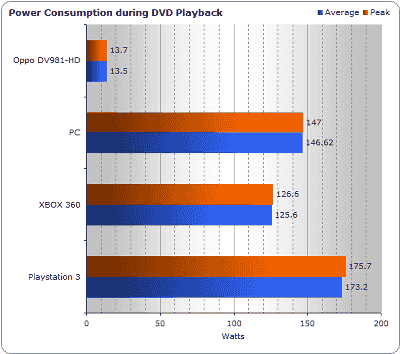 Regardless of the overwhelmingly low average power consumption of DVD players of 13.5 W, PS3 is 173.2 W, which is higher than PC power consumption. Compared to 125.6 W of Xbox 360, the difference is about 50 W. By the way, the experimenter says that the sound coming out of the Xbox 360's drive is too noisy, so it seems not suitable for DVD players with PS3 with high power consumption ....

And next is a comparison of movie playback of HD picture quality of Xbox 360 and PS3. Unfortunately, since the experimenter does not have an Xbox 360 HD DVD drive, he compared power consumption of 720p WMV-HD video downloaded from the Xbox Live Marketplace with PS3's Blu-ray Disc playback power.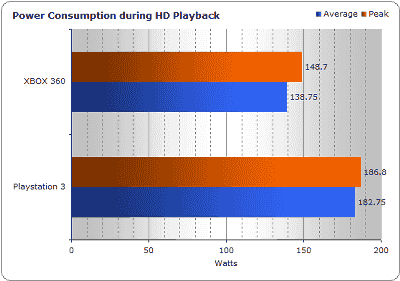 While Xbox 360 is 138.75 W, PS 3 is 182.75 W. I am concerned about the result of comparison with HD DVD playback.

Trend of power consumption during DVD playback. Both are jumping at the end of playback of the last person and returning to the console.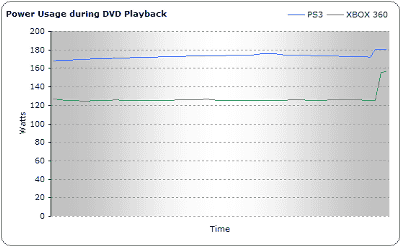 Power consumption during idling such as playing music on the console screen or downloading a demo. It seems that PC is power consumption when not loading high load program. The PS3 is 177.17 W, which is considerably high power consumption, while Wii is remarkably low at 13.5 W.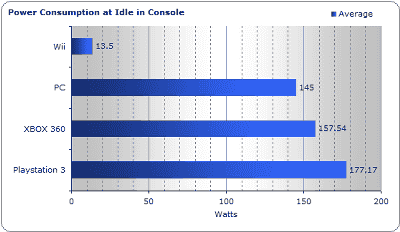 Power consumption during standby. Only in the case of Wii, it seems to be quite different depending on whether "wii connect 24" which is capable of automatically downloading additional data of software etc. by always connecting is turned on.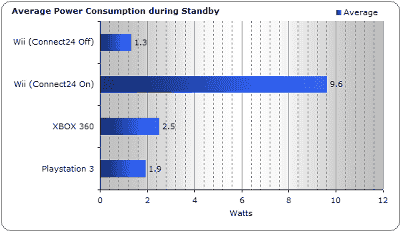 I heard that it was made on the assumption that it will keep on for 24 hours, but at the same time it is surprised by the low power consumption of Wii ....