Finally "Google Adsense Black List Japan Version Beta" Appears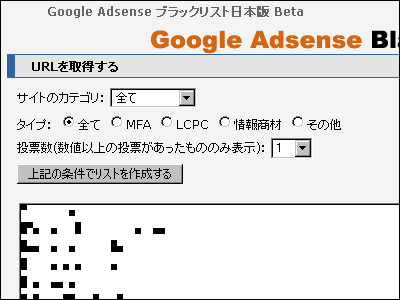 I mentioned earlier that it creates a list of cheap clients with AdSense cost per click and adds it to AdSense's hidden filter to increase revenueBlack list "AdsBlackList.com" that raises Google AdSense revenue by 50%However, it seems that the site which should also be called the Japanese version of it was finally launched.

It has become quite sophisticated function, 13 kinds of selectable categories, filtering of information goods etc. are possible, furthermore, it is possible to narrow down the address of each blacklist subject by the number of votes, so obtain a highly reliable list can do.

How to use and details are as follows.
Google Adsense black list Japanese version Beta
http://www.webpersons.info/adsbl/

Selectable genres are games, cosmetics, SEO, stock, diet, learning, affiliate, web production, PC, financial, software, business, English. You can select from 1 to 10 votes.

Posting of URL is possible by logging in, and at least 90 addresses are registered at present. Actually examining it is certainly only cheap parts, so accuracy seems to be higher than imagined.

In addition, at this time this address is 2 channel "Advertisers with lower CPCs with AdSenseIt is based on the information of the thread called.

As a way of use, after clicking "Create a list under the above conditions", copy the displayed address. Next, log in to Google AdSense and click "Filters" from "AdSense Settings". Paste the list in the blank at the bottom and click "Save Changes" to complete.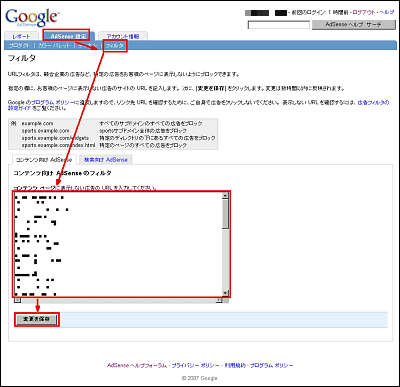 It seems to be reflected in about 24 to 48 hours.

For more information on finding cheap advertisers, please see the related articles below. In short, it is good to reverse the search of high-priced ad phrases.